4-4 point one-space low pincer invasion, block
Black blocks at

if he has a stone near

(however, see also: 44PointOneSpaceLowPincerNoSupportStone?). Up to

we see a typical joseki: Black makes a wall facing the left side, while White gets eyespace and a small amount of territory in the corner. If the marked stone is not present, this variation is bad for Black. White then plays in this region herself, and thus effectively reduces the influence of the black wall. The connection

-

-

is rather thin, but for White to attack it at once would do more harm than good.
---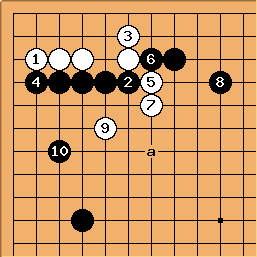 With the combination of

and

, White aims at the cut at

. Black most usually defends this cut indirectly - either by strengthening his position on the upper side, or by closing off the left side like he does here. If White cuts with

(often she will wait a while before doing so), he accepts the challenge with

(pushing White along the fourth line with

is not good[1]). The moves to White 11 (at a) are one possible continuation.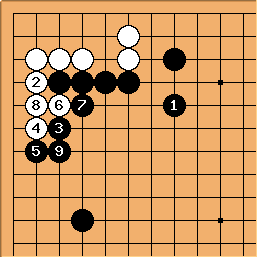 The old joseki, which is still played, was for Black to defend the cut directly with

. The disadvantage of this move is that it leaves the large move of

as aji. If Black blocks with

at

, White has a lot of aji here which might be used to invade Black's left-side moyo. But if Black draws back to

instead, White can make a rather large reduction of his territory in sente. Instead of

, white could also play at

.
---
unkx80: This needs clarification: is the variation below an old joseki or a situational joseki? Because the result is supposedly better for Black.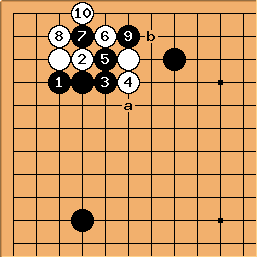 is another joseki move, but not played as often as the previous two. The sequence to

is forced, after that Black can choose to build thickness with a or fight immediately with b. a is most common.
Note that

cuts the side Black doesn't want. Having

to cut at

is the wrong place to cut, see tewari example 7 for an explanation.
The Suzuki-Kitani Small Joseki Dictionary says that this joseki is good for Black.
The

and

exchange is optional and only made in about half of pro games.
unkx80: Is there a particular reason why this exchange is not made?
After

, this sequence is to be expected. White has sente, but Black's influence is large. However, note that there is a White invasion at

that is hard to deal with. For example: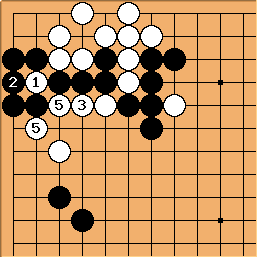 In this line Black dies and the game is over. Instead the best Black can hope for (if they play

on the outside) is ko: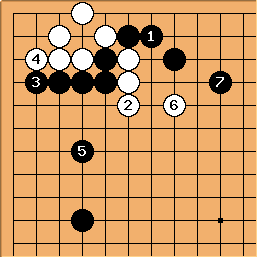 If Black plays

, he should not forget the important exchange of

for

. After

, White is floating in the center, while Black is both strong and in a position to make territory on both sides. If White does not answer in the corner, Black can get a ko.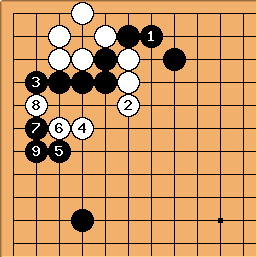 Black should not be afraid of this

. Black can maintain his connection to the outside world, while White still has to come back in the corner.
Tirno?: Kogo's Joseki dictionary shows the following sequence and says White is better. I imagine Black should have additional support to play this way. Black b instead of 7 may also be possible.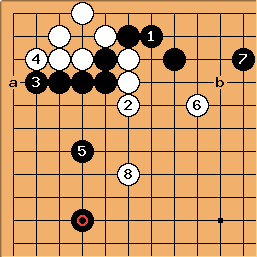 The Black stones on the left make inefficient shape. The circled stone on the star point ends up making inferior shape and looking submissive; White retains significant aji below in addition to the endgame at a. Black's stones on top are low. Although White's center is floating and can later be attacked, the stones are light, flexible, and efficient.
---
---
Author: AndreEngels
See also thickness example 1, thickness example 5.
---
[1] One should say, rather, that it might not be good. It is certainly played by strong players. Charles