Unremovable Ko Threat
An unremovable ko threat is a ko threat which cannot be removed without also executing the threat.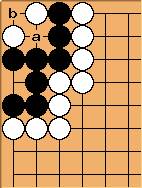 Unremovable ko threats typically occur in seki positions; here is an example. White has a ko threat here at a, which Black can never remove. Removing the ko-threat would mean Black playing at a himself, which of course leads to instant capture.

Sometimes dead groups contain unremovable ko threats for unremovable kos.
Unremovable ko threats matter for the status of the bent four in the corner, depending on the ruleset.
Here's another example.
---
See also