Double ko seki
This page explains the specifics of a double ko seki. It is already explained at the double ko page, since it is a major application of the double ko. It is also a special case of a seki, so it deserves a separate page.
---
This is a double ko seki. If Black takes at a White takes at b, and vice versa. Then the first player to take cannot continue locally.


Under Japanese rules, this seki, like all seki, provides no points to either player.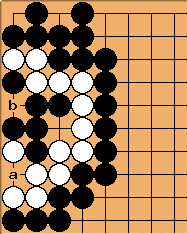 Double ko seki provides an unlimited number of unremovable threats, which is a reason why some people consider that superko should be applied in most rulesets. (See also Moonshine Life)
Real-life example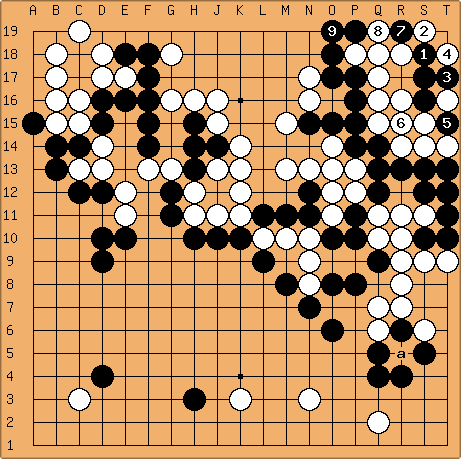 An interesting double-ko seki occurred in

this game between kghin and flyer on KGS. It turned out to be a temporary seki, as the surrounding group was dead, but continued to provide unlimited ko threats because the dead surrounding group had a number of liberties (but was on the losing end of a capturing race). The ko at a was involved in the capturing race, but the game was played under superko rules, preventing a triple-ko.
---