Three Colour Ongoing Game
Ongoing game of three colour go, started on the 1st of October 2003 and ended on the 6th of December 2003.
Rules:
13x13 board
Area scoring
Eyes in seki count
Discussion allowed (only on this page so no secrets)
Making and breaking deals, alliances, non-aggression pacts, etc. is allowed
Order of moving is black, white, red
All strings without liberties from opponents are captured
Suicide is not allowed
No whole-board repetition allowed[2]
The game ends when all players pass (that is, after a sequence of three passes), when two players agree to resign or when all players agree on a draw.
Black: David (20 kyu)
White: Floris Barthel?
Red:   Araldo van de Kraats (4 kyu)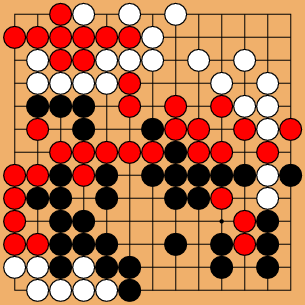 The final position. Result: B+Resign.
Araldo: Since numbering

stones is not possible, mark the new moves in the diagram with a,b,c,d,e,f,g,h and i (a,d,g: black - b,e,h: white - c,f,i: red)
Sebastian: How about if you used letters only for red, like this


a


b ... ? (diagrams don't allow to continue with


, but that shouldn't be a problem for brainy go players. :-P
Maybe use q r s t u v w x y z for red's moves, so a ... p can still be used for the usual discussion. -- 2003-09-30
SnotNose: Or, if you only allow three moves per diagram, you don't need any special labelling for

.
Sebastian: Or






to allow for 6.
Yet another idea: Use
unmarked B and W stones and for existing positions and
numbered B and W stones and for new moves. Red writes coordinates in the side text.
Araldo: I like the last suggestion best. Using letters is probably not a very good idea.
David: Allowing only three moves per diagram is best. I think red moves should be marked with a square on an empty intersection (a circle on an empty intersection for the most recent move at the top). This is more visually distinctive to me and leaves

to mark new white moves at the top.
I have made this edit visible to let people know the game is starting. Floris?, on your turn you should change this page's type to OngoingGame.
Araldo: The circle and square on an empty intersection are a bit too small for my taste. But we can at least try it for a while.
David: Another question is how to number black and white moves on the board. Let's try giving them the move number

modulo 10 (with 0 becoming 10 in the diagram). This means that we'll have to change "$$B" to "$$W" and vice versa in each new diagram.
Anonymous: Does't this affect certain life and death problems? For example, eyespace of 4 in a row is not alive. Also, wouldn't any game between experts end in a 3-way draw, because the two people that are behind would gang up on the leader? Now that I think of it, 4-color go is more interesting, with two teams of two.
Uno : Looking at move #99, does it make sense to add this rule?
A player cannot put the player who played before him in atari.
(eg. Player 2 cannot atari player 1 and let player 3 capture). (So, only player 3 can atari on player 1 giving player 1 a chance to defend at the least.)
Araldo: I don't like this extra rule. In my opinion, the beauty of three colour go is that such extraordinary things can be done. Almost anything is possible with teamwork. I like it this way.
[1]
[2] So the following would be allowed?
David: Actually, that's not true. It would be true if we were using the situational superko rule, but we're using the positional superko rule in this game.
[3] Black has a big advantage in this position. He doesn't have to make any threats because he may recapture whenever it is his turn (Red plays just before Black, changing the state of the board, unless Red passes).
I don't know if a three-color ko position exists, where all three players want to play locally but are sometimes prevented from doing so because of the ko rule.
(Sebastian:) Does anybody know if there are real red (or otherwise colored) stones available? Wouldn't it be fun even for a two-color game to play with different colors for a change?
Araldo: Last weekend I saw people playing 3 colour go with plastic go-stones coloured red, blue and yellow. Together with normal stones they can be used to play 2-5 colour go. I don't know where you can buy them.
Klaus: what happens with big eyless group? This may sound silly, but nin of the other players will like to play atari, because then the nex Player can make the capture. (Or do I misunderstand the way captured stones are counted?)
David: With area scoring, points are removed from the captured player's score, instead of being added to the capturing player's score as in territory scoring. It doesn't matter to the score which player captures (though it may matter tactically).
Dead groups partially surrounded by two players will probably be captured, because the other players want to maximize their score. There may exist positions where a group without eyes lives in something like seki, but I haven't thought of any for three players.
Klaus: Seems to make sense, even in a game with more than 3 players.
rubilia: Want a 3-coloured seki? This should be one (please check it again):
This one seems to be stable:
Iago: i'd like to try that, who wants to play a 3 color game with me (kgs 9k) ?
Celebrir: I would like to play a 3-colour game too. Anybody else ?
Cliftut: I'd like to try it out. I suppose we would need to start a new page. will we call it "Three Color Ongoing Game 2"? I really think a page should be set up for organizing 3-color games.
Carroll?: You can now play it on any surface on Basilisk Go Server :

http://basiliskgo.com/games