Three Color Go Game 1
Game admin is ilikego. An example game is here: ThreeColourOngoingGame.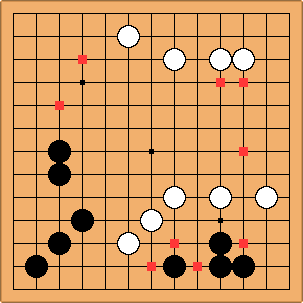 Black (ilikego 1k kgs)
 Captured:
 White:
 Red:

 White  Bucky (7k kgs) TURN
 Captured:
 Black:
 Red:

 Red  althor (3k kgs)
 Captured:
 Black: 1
 White:

---
Truce?
I have 0 chance of surviving in the lower right. I would like to declare a 3 way truce before proceeding? -ilikego
So we break off all alliances and go back to free for all? -bucky
I think that we (althor and ilikego) need to do something about that white line hemming us in in the bottom right. If we dont do something together, white will kill all of that and the game will be over -althor
So alThor sees the need to alter the Red White truce and declare it a free for all again. What about you bucky? -ilikego
Free for all sounds great to me! -bucky
ok, a truce it is. -ilikego
---
Rules:
13x13 board
Area scoring
Eyes in seki count
Discussion allowed (only on this page so no secrets)
Making and breaking deals, alliances, non-aggression pacts, etc. is allowed
Order of moving is black, white, red
All strings without liberties from opponents are captured
Suicide is not allowed
No whole-board repetition allowed[2]
The game ends when all players pass (that is, after a sequence of three passes), when two players agree to resign or when all players agree on a draw.
Players may be dismissed by admin for not playing.
Feel free to rejoin game if you are dismissed.