DATE

2008-03-10
WHITE

pillbox
BLACK

KGS user
RESULT

B+R
Feel free (encouraged even) to comment.
---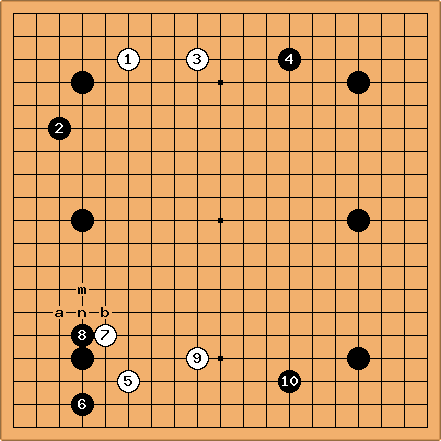 Herman Hiddema:

is a strange move. With

, black has taken the corner but left a large hole on the left. White still has the option of playing the other kakari at a. With the


exchange, black gains more than white. After

, black is much stronger on the left side, while white only leaves himself the move at b, for now. Better play

directly.
pillbox: Thank you for your comment. I realize now what you mean. I played

will the intent to follow up with m or n, as I did later in the next diagram with

(

on the diagram). Only after your comment do I see that this was not a good plan, as it only caused black to fortify on the left.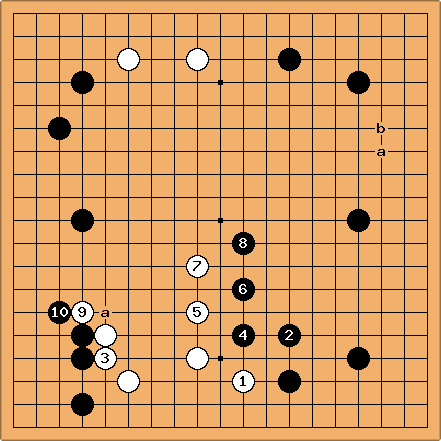 pillbox: After

, I feel I should have played on the right side, perhaps at A or B.
Herman Hiddema:

does very little for white. It makes a few points, but it does not put pressure on black. It allows black the option to play hane at the head of two with a move at a. Locally, playing the move at a yourself is much better shape for white. I agree with you on moves after

.

and

are the wrong side. White is strong on this side after the move

, so playing from this side is the wrong direction.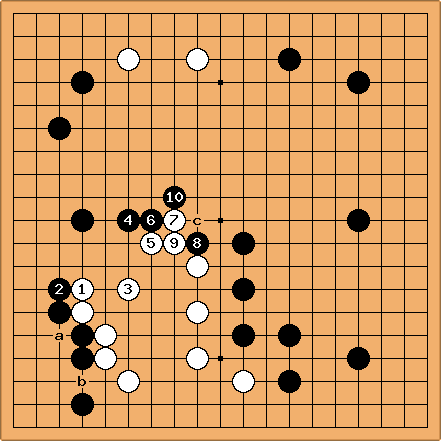 Herman Hiddema:

is to easy on black. White should play the double hane at 2, which threatens al sorts of nasty things with the cuts at a and b.

is better directly at c, if you want to play locally, but globally tenuki would be better.
pillbox: Typically I fear playing the double hane, but I see now that it is a very good option in this situation.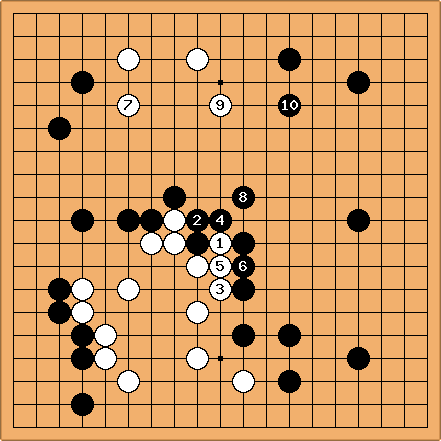 pillbox: I have no idea what

is trying to do. The fact that I played this move haunts me.
pillbox: After

, I realized that I should have been attacking exactly where

protects. I admire Black for having the presence of mind to play this, as this is the kind of move I will often omit during my games. This could very well be my favorite move of the game, and I'm jealous that it was not mine.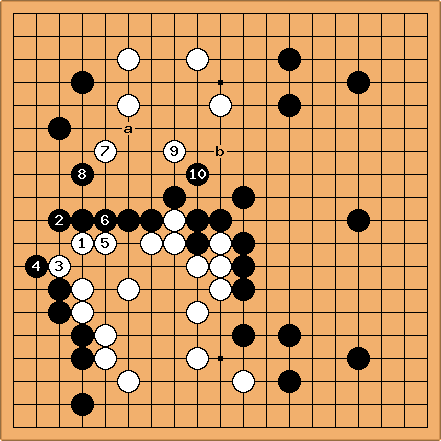 pillbox: Looking at it now,

and

seem to be less than optimal moves. While they cast influence against Black's wall, they do not necessarily perform efficiently.
pillbox: After looking at this for a while, I feel that perhaps

at A and

at B; but I'm not sure how much stronger that would be.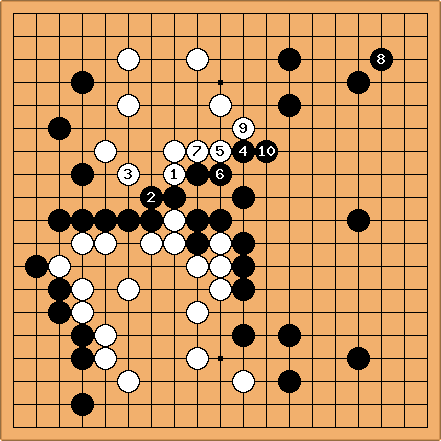 pillbox: I spent a long time thinking about

. I felt at the time that it was paramount to make the connection. But now I cannot be sure.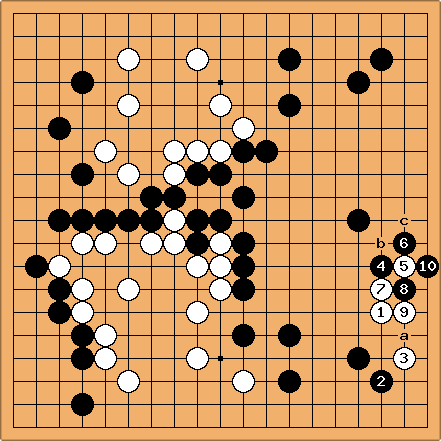 unkx80:

is too conservative and can actually be played at a, although I think a better Black move may be at

and allow White to live in the 3-3.

should play at b or c to increase the chances of survival.

should be played at

, and I think

at

has some chance of living? The life and death here is not very trivial, but I feel that White has very little chance to live after

.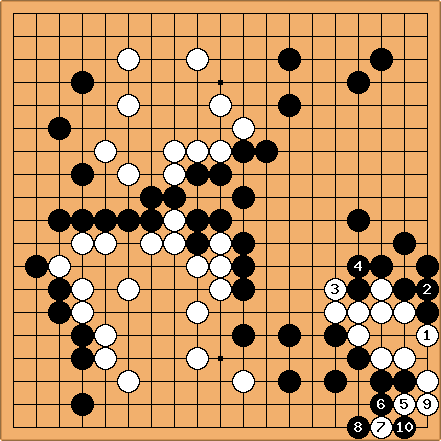 pillbox: I had a nightmare about this sequence last night. This failed invasion will haunt me in my dreams for some time, I fear. Perhaps somebody can explain where I went wrong?
pillbox: After

, I realized that my opponent was very aware and protective of his cutting points. This is where I started to look for somewhere to resign.
pillbox: I think now that

at

would have been better.
---
unkx80: An overall comment. You have a tendency to settle a group before doing starting to play at another place, such as invading Black's framework. While this strategy may work for even games, it is way too conservative and cannot work for a H6 game, because as you settle each group completely, Black has a lot of moves to reinforce his other areas and make them very thick. The resulting thickness is a key factor why the invasion at the bottom right did not succeed. In high handicap games, White has to be proactive and play in several different places.
pillbox: You are completely correct. I have a tendency to swing from one end of the spectrum to the other, either defending too much in certain situations (typically in trying to establish a base) to the other end (usually in pushing to the center) of leaving many weaknesses behind while pressing forward, only to be punished for them in the future. I appreciate your comment as it gives validation to the impression that I get from my own play. I will be working hard in an effort to correct these shortcomings (probably only to trade them off for another, completely different, set of shortcomings that will probably be more difficult to overcome.) Thank you for your comments!