Pillbox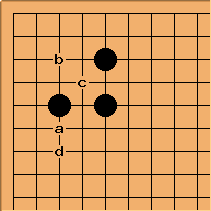 In Japanese this is toochika, actually an imported Russian word tochka.
There seems to be no standard probe against the pillbox: a, b and c are seen in pro games. The most popular idea for White is to establish a play at d.
For some high dan examples of the pillbox in action check out the games of 'somerville' (Yang Huiren) on KGS.
---
---
See also pillbox (The Player)