Shuwa
Honinbo Shuwa (本因坊秀和, Tsuchiya Toshihira, Tsuchiya Shunpei, Tsuchiya Tsunetaro, 1820 - 2 July 1873 in Koshimoda Village, Izu Prov., Japan), the 14th head of the Honinbo house, was a Japanese, professional 8-dan and one of the strongest players during the Edo period.
Shuwa, a pupil of Honinbo Jowa, was a rival of the Tempo Top Four, teacher of numerous strong players, one of the last participants in the Castle games (from 1840-62), and father of Honinbo Shuetsu, Honinbo Shuei, Honinbo Shugen, Denkichi (a merchant) and a daughter. In 2006, he was inducted into the 3rd annual Nihon Ki-in Hall of Fame.
Biography
Shuwa first learned go in 1827 and became a pupil of the Honinbo house, under Meijin Honinbo Jowa, the following year. In 1832, he changed his name to Shuwa. He progressed quickly and by 1840 had reached 7-dan and was appointed heir to the Honinbo house by Honinbo Josaku. The same year he opposed Inoue Gen'an Inseki's application to Meijin-Godokoro. The sources are unclear about how many games sogo was ordered by the jisha-bugyo (some say it was just 4 games, others say 20) but only one game was played - Shuwa won playing Black (B+4, 29.11.1840). Gennan must have been so dismayed by the strength and perhaps style of Shuwa that he retracted his application. However, after 2 years he tried again and was again fended off - Shuwa won (B+6, 16.05.1842). They were pitted against one another a final time in a castle game in 1842, Shuwa again taking Black and this time winning by four points (B+4,17.11.1842). It is said that after this third loss in a row, Gennan realised that he could not fulfill what he thought to be his destiny. During 1846-7 he played a series of seventeen games with Honinbo Shusaku, and soon after succeeding as head in '47 he announced Shusaku as his heir. By 1849 he was promoted to 8-dan and widely acknowledged as the strongest player (Gennan Inseki retired in 1848). At this point his only competition was against the Tempo Top Four -- Yasui Sanchi, Ito Showa, Ota Yuzo and Sakaguchi Sentoku -- and Shusaku. Although he occasionally played members of the Four on even terms, he generally gave them a handicap. He found Sanchi to be his most difficult opponent and Yuzo to be his easiest. His last official game with Shusaku finished in 1852.
In 1859, he submitted a request for the title of Meijin-Godokoro, but it was opposed by the Inoue house because of his participation in blocking Inoue Gen'an Inseki's accession years before. While his request was in perpetuity his heir, Shusaku, passed away in 1862. Shuwa announced his eldest son, Shuetsu 3-dan, as heir to the Honinbo house, passing over his then strongest student Murase Shuho 6-dan as a result of inter-familial politics.
As the years continued, uncertain political and economic climate surrounding the Meiji Restoration ultimately led to his unsuccessful accession[1] and began a series of increasing financial woes. In Spring 1870, a fire broke out burning down all the rental houses and main Honinbo apartment; and by 1871 stipends for the Honinbo house officially ran out. In despair and with the responsibility of the entire Honinbo family and estate on his shoulders his health declined rapidly. On 2 July 1873, the last Honinbo of the Edo era, Honinbo XIV Shuwa 8-dan passed away.
Style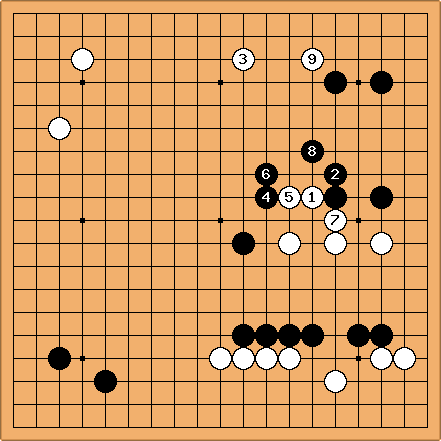 His style with Black epitomized the values of classical go - making one's groups safe and strong early on. He is greatly admired by modern professionals for his light, flexible play, as well as his refinement and mastery of amashi when playing with white.

Cho Chikun said the following of Shuwa and his style:
I like him the most of the historical Meijins. Most people prefer Shusaku, but I felt closer to Shuwa. Our go seemed to have a lot in common. I think you'll find [...] that Shuwa's go is fast-moving and that he has a good perception of the overall position. He keeps moving ahead, beating the opponent to the large points. And his go is flexible. For example, if he makes a slight gain with a forcing move, he will stop worrying about that area. He will then play from the op­posite direction. When he sacrifices, he does so smartly, without wasting time, then looks for somewhere else to start a fight. Above all, he does not fuss about, his go is 'flexible'. This aspect of his game really strikes a responsive chord in me.[2]
Rank Promotion
1834: 3-dan, jump promotion
1835: 4-dan
1836: 5-dan
1838: 6-dan
1840: 7-dan
1849: 8-dan
Pupils[3]
English Commentaries
---
Notes
[1] Although Shuwa did not attain the rank of Meijin, he is honored as one of the Four Sages, players who were said to be of Meijin strength but never officially attained the title. The other three are: Honinbo Genjo, Yasui Chitoku and Inoue Gen'an Inseki.
[2] Go World Iss. 23, pp. 25-6.
[3] Source: 1996 Kido Yearbook.
His first challenge game against Gen'an is said to be the longest game ever in playing time. They played from Dec. 22-26, 1840 & Jan. 1, 2, 4, 5, 1841 from 9-5, except for the last day which started at 10, equaling 71-hours. The match is featured in episode one of the Hikaru no Go anime.
In 1860, he played a jubango with his pupil, Murase Shuho (then known as Murase Yakichi). However, only four records of the match exist with the score of 1-win, 1-jigo and 2-losses.
Several of his matched are featured in the Hikaru no Go anime and manga.

1840-12-22: Anime, ep. 1.
1847-09-11: Manga, ch. 89, Shindo vs. Sai.
1851-11-14: Manga, ch. 5.
1851-11-15: Manga, ch. 2, Shindo vs. Akira.
Shuwa gave the traditional ruling that the controversial corner position known as torazu sanmoku is worth three points with no need to capture the four stones.
Discussion
Is the link to Yasui Sanchi right? That one was ten years older than Shuwa. Could it be another with the same name?
Charles Well, no. I left that unresolved because of difficulties I had with relating the name in the Yearbook with John Fairbairn's names book. Someone else has leapt in rather overconfidently.
John Fairbairn I think you'll find it's a misprint for Sanei. But the Kido listing looks dodgy anyway. It purports to limit itself to Meiji or later players yet lists Shusaku, and gives a false impression in that Shuwa had quite a few more pupils, live-in no less, rather more reliably, but still not completely, listed in Zain Danso.