Don't touch weak stones
BobMcGuigan: The meaning of this proverb is that it is not usually good to play a contact move against your opponent's weak stone. The reason is that in responding to the contact play the weak stone becomes stronger, hence more difficult to attack. An exception is when the contact play induces a response which makes the weak stone into a heavy group. Players often attach on a weak stone when they feel under attack and need to take care of their stones. Sometimes this is necessary, but doing so may remove a possible counterattack for later.
Bill: Gee, Bob, what do you think about attach to rather than touch. I'm thinking about the colloquial sense of touch, which could lead to an interpretation of Leave weak stones alone.
Charles: It's a good metaphor.
Velobici: This proverb confused me for too long. The reason is that it says weak rather than weaker stones. (Dont touch weaker stones.) The key point being that strength and weakness are relative to the stones that are touching and the ability of the weaker stones to defend themselves.
Dont touch weaker stones. Touching will make the weaker stones stronger faster than your own stones will strengthen, thus decreasing the relative strength difference.
Thoughts ?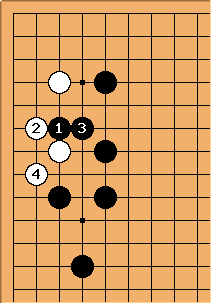 Slarty: I sometimes phrase this as Attaching makes things stronger. Basically, the reason is that exchanges of stones in an area helps the weaker group make life/shape. Except in various ideas (like the leaning attack, making the target heavy, or sealing it in) helping the weak group live like this is a waste of resources for the attacker. For example, the exchange

-

is needed defend the attaching stone

, which is short of liberties. Both Black's numerical advantage (i.e. the ratio of nearby stones) and the number of moves White "owes" for making life have diminished.
dERC?: I used to live by this rule until I started playing at a higher level. while there are definite disadvantages to strengthening your opponent, there are also times when attaching forcing moves become extremely valuable. often they can take advantage of tight spaces and make life in hostile areas. If you want to know more I recommend Yilun Yang 7p's "The workshop lectures", Volume 4.