Don't Attach When Attacking
"Don't Attach When Attacking" is a proverb that tells you not to touch the stones which you are trying to attack. See also: Attack from a distance.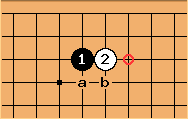 In the case where there are no other stones around, if White wants to attack the black stone, attaching to it (playing tsuke) will prompt Black to extend to a, or to play hane at b.
If Black extends to a, he has strengthened his stone and White finds himself stuck on a wall which is stronger than he is.
If Black hanes at b, White finds himself with a lack of liberties whereas Black can make shape if White responds.
For better ways of attacking, see How to attack.
In both these cases, the black stones will be stronger after the attack than before, whereas White will be weakened.
---
The natural way to attack a stone is from afar. The circled point is as close as White should ever go, and sometimes that is too close already.
When attacking, all you are trying to do is to limit the opponent's possible movements. In the case above, an approach from the circled stone already robs him of the possibility to extend on that side to create a base or an eye.
Attacking with a view to kill is almost always wrong. Living is easy, killing is difficult. Always attack to gain something (influence, territory...) not to take something away from your opponent. If, after you have managed to gain what you wanted, you can kill the opponent, then by all means do so, but don't make it the prime objective.
Also, take a look at RespondToAttachmentWithHane, Respond to attachment with hane / Discussion and CrosscutThenExtend.
--MortenPahle (10kyu)
--Sbaguz: I think this proverb is very, very important for beginners like me: we play in panic next to opponent's stones when we want to stop his invasions... and this way we lose more.
--Phlegmatic: Sbaguz - Remember that this proverb applies to attacking, sometimes different considerations apply when defending against invasions, as discussed in the tsuke page.
Neil: Attacking with a plan to kill might be wrong, but you should make sure to give your opponent SOME pressure on the life department, or the attack won't do much. That's something I have to work on sometimes.
Andrew Grant: If there's NO threat to kill, it's hard to see how you can even call it an "attack".
Shaydwyrm: The threat of sealing in a group and eliminating its outside influence is also strong and may constitute an attack, although maybe not as strong as a threat against its eyespace. Of course, the attack is doubly effective if it threatens both!
Andrew Grant: A group that is only one move away from being sealed in is unlikely to have any outside influence to speak of. My point is, if a so-called "attack" does not threaten the life of a group, it is possible to ignore it and instead play so as to neutralise any influence the opponent would get by following up the "attack".
Karl Knechtel: I think you confuse "influence" with "thickness". A group that is one move away from being sealed in is also one move away from breaking out, and it might break out into, for example, opponent's large centre moyo, in a way that is difficult to contain (perhaps due to weaknesses in the wall that was threatening to seal it in, which are exposed by the breakout...)
Dan Benson?: As a beginner, I believe this proverb goes well with Make a fist before striking. While these two proverbs provide separate ideas, they prove that the battle will not be won by a single stone.
---
Bill: I agree with the suggestion to merge.