Attack From A Distance
The principle to attack from a distance gives more direction to the general question how to attack. In particular it warns against
Attachments as attacking moves.
Diagonal approaches as attacking moves
In general, if the attacking stones are close, a counter-attack becomes more effective.
In contrast, the capping play [2] and the keima (see attacking with keima) keep some distance to the object of the attack. Those are basic attacking techniques.
Example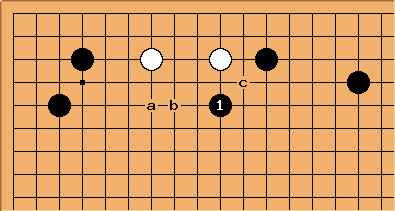 This capping play is a typical attacking technique: it gives White no leverage against

. White's routes to the center have been reduced complicated and her eye space is narrow at the top. Incidentally, the capping play is where the basic defensive move of the one-point jump would come.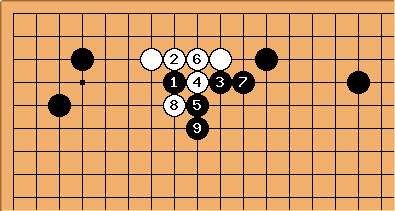 This

and

don't attack White. They rather carry out a leaning maneuver to gain strength at the expense of easy living for White.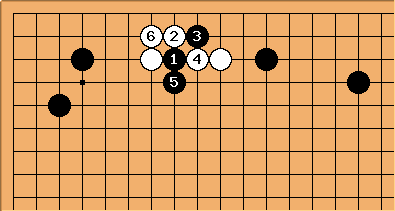 Here,

does not really attack the White stones either. Up to

, White has increased her potential of making two eyes at the bottom, while

and

are floating into the centre. Similar results come from other vatiations.
Remarks
One must understand the idea of making the opponent heavy, which can seem to run counter the advice on this page.
In a broader sense this principle can be understood to attack on a large scale, including the technique of leaning attack.
Merge discussion (to be removed)
tapir: I agree, but there should be one proverb page remaining, even if it just list half a dozen variations of the proverb and features a link to this page.
Out of personal experience: it is hard for beginners to see how

constitutes an attack here. Especially with a and c present. (The keima is easier to see, but here White can run out uncut and split you!) And imagining sth. like d as answer to a was completely out of question. For me it wasn't until I got my head around the idea that I attack for profit not for kills that I started to appreciate this kind of moves.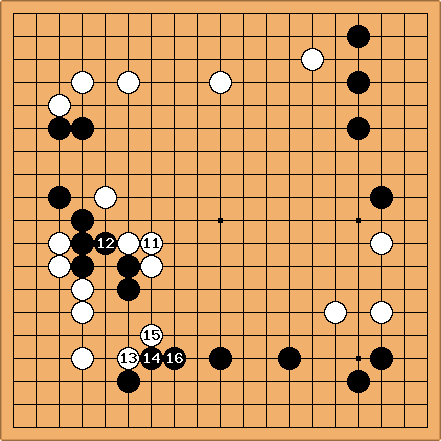 I remember being impressed by this example. Suddenly it became clear that the capping play is indeed an attacking move (if the opponent resists, if not White can play at

and be happy with the result. This wasn't so clear to me as long as I only saw one or two moves.
See also