All Stars Opening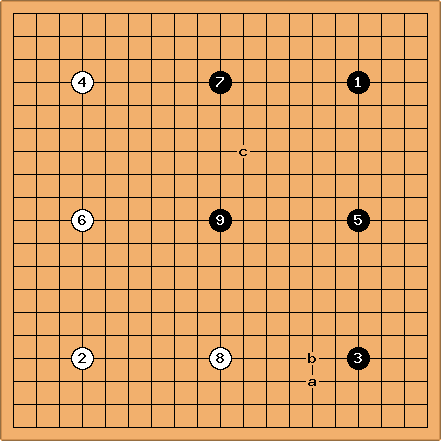 This opening appeared as an experiment in 1934, the heyday of shin fuseki. At that time, in games without komi, it seems to have been accepted that this is good for Black after

. So White normally deviated, for example playing

at a.
This pattern plays a hidden role, for example when sanrensei is used against manego (mirror Go), and the pros were thinking about it, without a doubt, over 40 years when it wasn't being played.
There was a flurry of activity again in 1988, with White applying

at b.
Uwe: Rin Kaiho has in 1977 invented

at c against Takemiya Masaki (1977-11-10). This move was later played by Fujisawa Shuko in some (at least four) games against Takemiya Masaki.
---
On the nomenclature: 'All Stars' occurs in katakana in a Kido Yearbook - presumably a baseball reference. Of course it simply means that all plays are on all the star-points (hoshi).
Uwe: Another name of this fuseki is kyurensei.
---
The position up to

in the diagram above occurred in a classic shin fuseki game Shinohara Masami-Kitani Minoru 1934-10-24. There were other experiments made at that time, in which all of the first nine plays were on star points.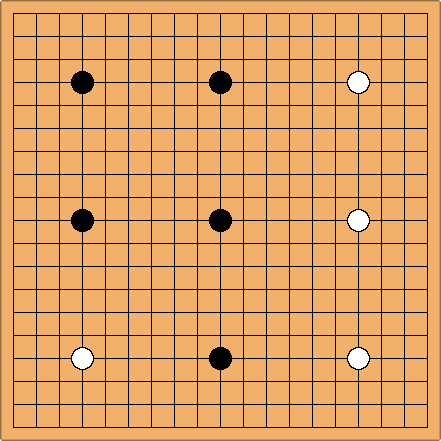 Suzuki Kensho(B)-Takagawa Kaku 1934-01-21. This game started at tengen. Black's box formation in the upper left is characteristic of the early theories of shin fuseki. Also in the Spring Oteai 1934 game Tanaka Fujio (B) -Kosugi Tei, and again in the Autumn Oteai that year by Sometani Kazuo (B) -Nakamura Yutaro.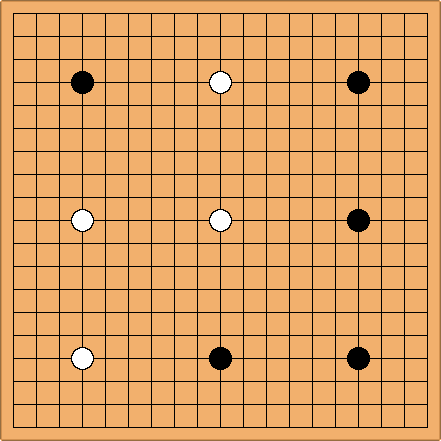 Izutani Minoru (B) - Takagawa Kaku 1934-02-14.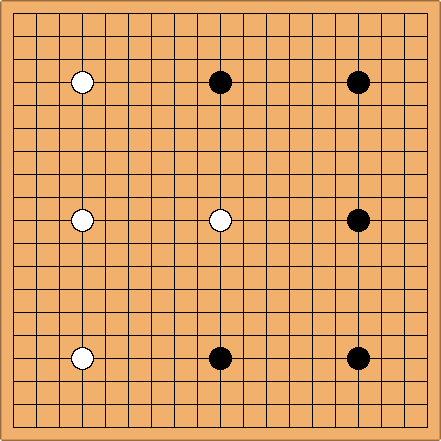 Maeda Nobuaki (B) - Kitani Minoru 1936-04-22.
Anyone know of any other all-star patterns from pro games? Of about 20 possibles, it isn't obvious that any others have occurred.