Virtueless
Also see: Boundary Point Go and Tao Go, Opposite of "Virtueful"
Migeru: KarlKnechtel calls this goban "virtueless".
KarlKnechtel: "Virtueless", of course, because heaven is missing. :) Some interesting properties:
The centre breaks ladders, which in turn impacts several joseki sequences, I'm sure. But then, I don't know of joseki for 13x13.
Four points in the middle that have only 3 liberties, like the edges. Could result in some sneaky tricks trying to connect through the centre.
There is even less than no territory in the centre now. ;)
Agt: isn't mirror go possible without tengen ?
Migeru: I think the refutations of mirror go still work:

---
A kibitz: you both seem to be treating the gap in the center as a "ceiling". It seems to me that it is more like another "edge" that can be used to make a base. -Darron Shaffer
exswoo:That's a good point. I didn't think of it in that way. ---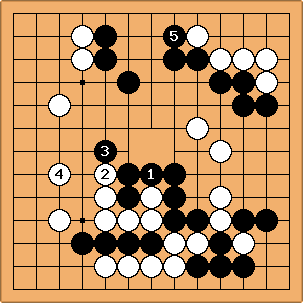 Black 55

At this point white has secured 85 points (with area scoring) so I think I have lost the game. Migeru
---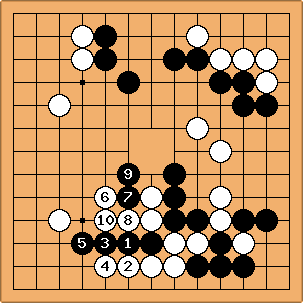 Black 47
Black 43

I think I have read this correctly. Migeru
exswoo:Looks like Might've pushed it one too far. (W 42)
---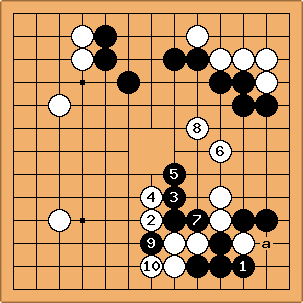 Black 37

Let's try this.
Black 35

I don't think I have a choice here.
Black 33

If my reading is correct, we're going to see some very interesting stuff happening when I hit the center. Migeru
White 34

True...if I was willing go that offensively...which I don't see the need for right now, since you're going to have to work to save those stones for the next couple of moves.
Black 31

Is a better? Migeru
---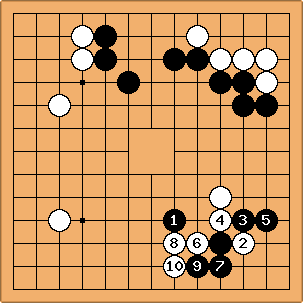 White 21

Let's see what happens when you hit the center Migeru
Black 19

I thought about playing at b, but then white can cut at a with lots of aji.
Black 15

Question: does the fact that the center breaks ladders make a not a cut point any more? Migeru
exswoo after playing this far, I think the no Tengen variant has too big of an effect on a 13x13.. ---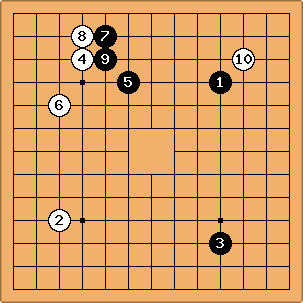 Black 7

Let's make some territory on the top. Migeru
---
Who wants to play a game of 9X9 Virtueless with me?...