Luo Xihe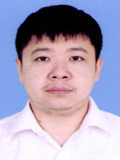 (罗洗河; b.1977-11-23) Chinese 9 dan professional.
1p 1989, 2p 1990, 3p 1991, 4p 1992, 5p 1994, 6p 1996, 7p 1998, 8p 1999, 9p 2002
Husband of Liang Yadi.
Well-known for his

brilliant game against Choi Cheolhan in the semifinals of the 10th Samsung Cup in 2005, in which he sacrificed an enormous group of stones in order to avoid triple ko and win by 7,5 points. He went on to defeat Lee Changho in the finals by 2 games to 1.
Winner of the 3rd Southern Great Wall Cup in 2007 by beating Lee Sedol.
In China, Luo won the National Go Individual in 2000, the 6th NEC Cup China in 2001 and the 18th CCTV Cup in 2006. Two time runner up in the Mingren (1994, 1997).
In 1999 Luo won the China weiqi League, as member of the Team Chongqing.

GoBase

GoGameWorld