4-4 3-3 enclosure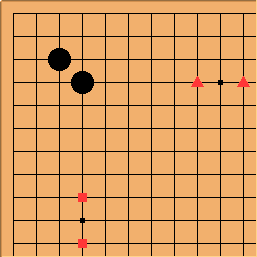 This enclosure appears quite often in the games of Takemiya, to defend against the 3-3 point invasion.
Black usually plays this only if he has influence around both

and

.
---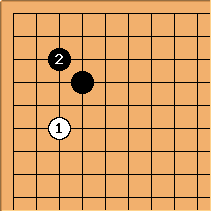 If you want to shock a stronger player who is giving you a handicap, you can answer the usual kakari of

with the surprising kosumi at

. Many players don't know that this is actually a joseki listed on page 1084 of "Joseki Daijiten" (Big Joseki Lexikon) Volume 1, Tokyo, Nihon Kiin, 1986, as Diagram 9257. However, in that book black has a stone on the 3-3 point first and answers the kakari at

with a kosumi outwards to the star point.
Jesse: This would not surprise me at all. It actually seems to be quite common in handicap games at the kyu level, sometimes even without a White kakari. Personally, I don't think it is a good way to develop a 4-4 stone. I'll leave it to stronger players to comment further, though.
The continuation in that diagram is shown below: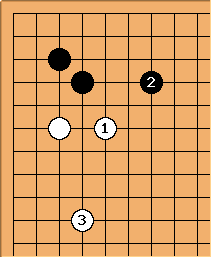 Whatever happens after the answer on 3-3 in the diagram above, white can't trade the white stone on the outside for the corner. So this is actually an attack on the kakari stone and should be played aiming at that attack, not in a defensive state of mind.
Klaus: Trying out stuff like this can be fun, and one can learn a lot about attacking baseless stones by using this enclosure.
---
Professional examples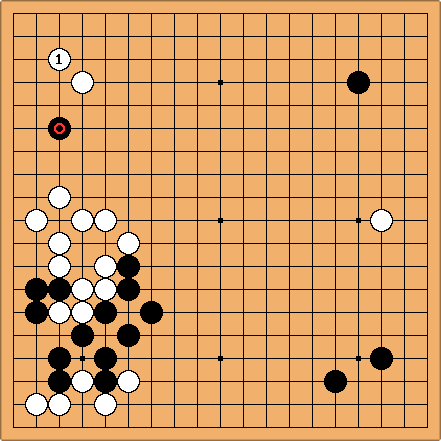 It appears the motivation for the 4-4 3-3 enclosure is to prevent

from making sabaki.
White wins by resignation.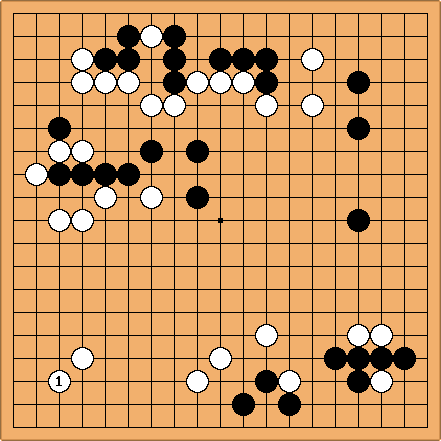 creates the 4-4 3-3 enclosure, with the aim of turning much of the framework in the lower left into territory.
White wins by resignation.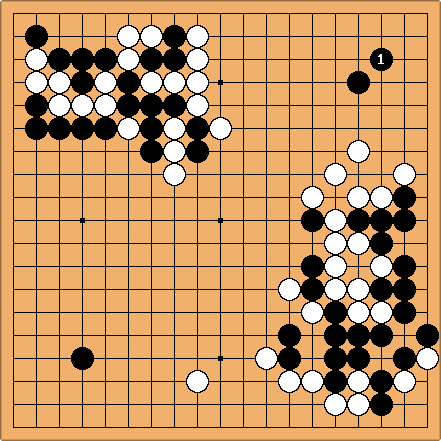 Owing to the strength of the White groups all around the upper right corner,

chose the 4-4 3-3 enclosure to ensure the safety of his upper right corner.
White wins by resignation.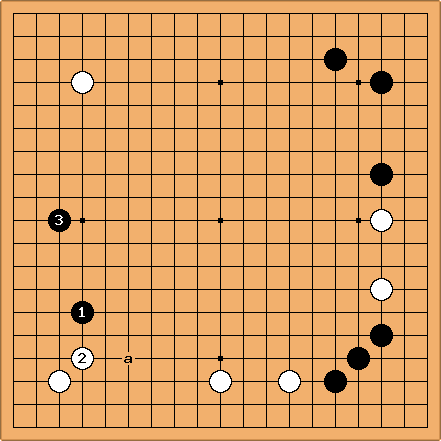 In response to the approach at

,

plays the diagonal to form the 3-3 4-4 enclosure. This move puts more pressure on the

stone than the more common response at a.
Black wins by 3.5 points.
---
Anonymous: Is this really an enclosure? It doesn't enclose any more than the 3-3 stone alone does.
Timm(5k): I guess enclosure is a slippy notion anyway. A 3-3 stone by itself probably isn't an enclosure, and a 44 64 enclosure doesn't really enclose anything. Actually the very idea of "enclosing" seems to contradict the aims of a play at the 4-4 point, doesn't it ? The enclosure page currently defines it as a formation that is created when "one player has made two moves in the same corner" and I think we'll be better off sticking to this pragmatic description.
BTW much of the content of this page deals with answering an approach move rather than creating an enclosure. We could have a 44PointLowApproach33? page.