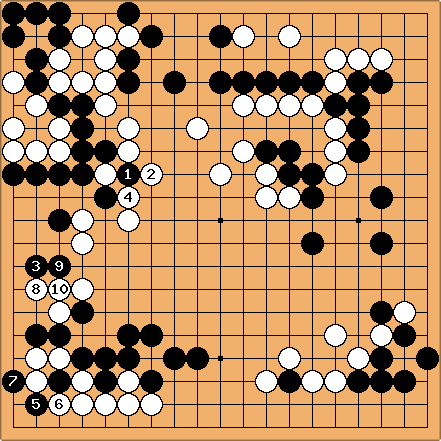 HolIgor: Moves from

to

are understandable at least, though it is difficult to say if they were the best.
HolIgor:

-

is an interesting maneuver. As I understand the purpose is to get a sente connection of two groups. Black can connect in gote but then white gets a big move in the middle.
unkx80:

and

is a rather common endgame tesuji, but playing it out in an actual game is not so easy. I think I had a similar problem in goproblems.com, but I don't think we have it in SL. I shall write something on this in Endgame Tesuji 3.
HolIgor:

. Yi Ch'ang-ho does not like to reply. He plays what he himself considers to be sente.
HolIgor:

is sente,

defends. As people say, you know you have been forced when not replying makes the previous move meaningless.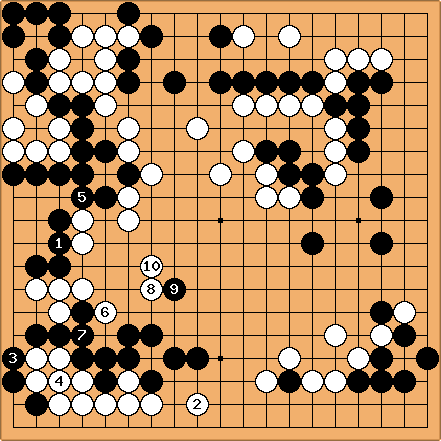 HolIgor:

is a good solid move. Yet, this has to be understood. Black always has a ko option to survive so is not this a little bit slow?
Charles is a thick move. One can say that it keeps a number of cutting points 'open' for Black, for example. Also, settling this group is natural if Black is going to allow the lower left group to become weakened.
HolIgor:

. White has decided to give up some points in the corner and run to connect with the other group. There is a curious moment here. Black wall is without eyes, so white can do some chasing and get some stones on the board for free.
HolIgor:

is a thick move again. Black is very much concerned with the life of this group and wants to keep some potential in the center.
HolIgor:

through

, it seems that the white stones flow naturally. There is some thinness in white's shape, yet it is not easy to exploit.
Yose next.