Ishida Volume 2
The original Japanese version of the Dictionary of Basic Joseki is published in two volumes rather than three. As a result, volume two of the English translation does not have the benefit of a foreword from Ishida. :-)
Volume 2 finishes coverage of the 3-4 point with:
The one-space high approach move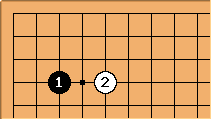 "This move 2 has a much briefer history than the small knight approach move. While occasionally seen in pre-modern games, it did not become a standard move, due to its lack of emphasis on territory. In modern times it has been re-evaluated and is now just as popular as the knight's move. In modern Go, with its preoccupation with speed and influence, the true virtues of this move have been discovered, bringing an added dimension of depth and strength to the fuseki."
The 5-3 Point (I won't repeat myself - check this link :-)
With the three most standard replies: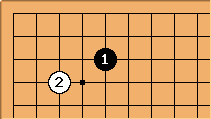 "Because of its solidity and stability, 2 is regarded as the standard approach move to the 5-3 stone." (Volume 2 part five)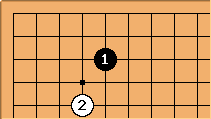 "White plays the high approach move 2 to prevent Black from gaining influence by pressing down on him. In the local context, however, this move entails a loss as White must abandon profit in the corner." (Volume 2 part six)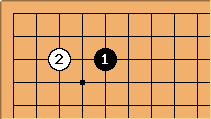 "The primary objective of White 2 is to take secure profit before Black and, if circumstances permit, to get sente. A favorable ladder is desirable for this move." (Volume 2 part seven)

By the way, the ladder referred to arises as follows: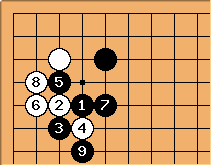 "It is only commonsense that one must consider the ladder when the sequence to

is played. The moves to

form a standard pattern but White gets an inferior result if the ladder favors Black."
---

SGFs of games referred to in book
Game database references. Errata.
See also Joseki Dictionary Coverage Depth
Reviews
to be added
Table of Contents
to be added
Sample Material
to be added