Three in a row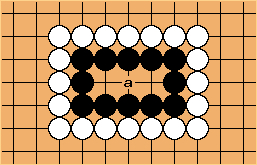 In this position, Black's eyespace consists of three points in a row.
The point a is the vital point: If Black plays there then he has two eyes and lives, but if White plays there then Black is dead.
The following diagrams are the same position on the side and in the corner, in both diagrams a is the vital point.