Sector Line
BruceWilcox introduced the term sector line for an imaginary line joining stones of the same color.
For example, the white stone is higher than black's sector line in the diagram below, so

is considered a quasi-pincer rather than a pincer proper: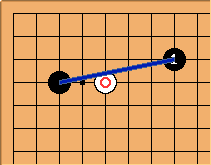 In general it is good to break your opponent's sector lines. The shorter the sector line, the more severe the breach, as a rule.
Sector lines at the boundary of a moyo are Border Lines.[1] Border lines may be used to distinguish an invasion from a reduction. Often the place to play keshi is at the middle of a border line (but this is just a heuristic).
---
[1] Bill: I'm not sure, but, looking at the border lines page, that does not seem to be the case. It looks like border lines lie between sector lines of different colors.
Jared: I didn't see what you were saying at first, but now I think I get it. I'll try to answer that on the border lines page, so I can use the diagram there.