Push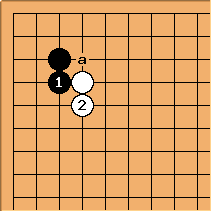 pushes White along, taking territory and also reducing the liberties on the white stone. This is a typical pushing play, of the kind that can lead to a pushing battle. In Japanese it would be oshi.
Pushing from behind is considered to be disadvantageous.
Push in, push out, push through relate to a complex of different basic patterns, the Japanese de and degiri (q.v.).