Degiri
Degiri ( 出切り ) means 'push through/out and then cut'.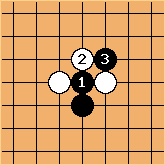 The term "degiri" is a handy way of describing this short sequence of

(the push through, or de) and

(the cut, or kiri).
---
Bob Myers: The push through and cut often has a vulgar, amateurish feel to it. Among other negatives, Black is reducing his own number of liberties, is settling the shape prematurely by choosing which side to cut on, and the likelihood of aji keshi is high.
However, there are times when this push-and-cut is useful, particularly if black is strong in this area, or along the side.
Bill: I do not get the same feeling. If defending with

is almost automatic, then it must be to protect against the degiri, in nearly all cases. How bad or amateurish can the degiri be?
George Caplan Whether such a play is vulgar would depend on the surrounding position. However, it is usually vulgar to push and NOT cut, which I see a lot in games, usually played too early and aji keshi. Bob is right, of course, pushing can be wrong, but I believe pushing and not cutting is almost always bad.
Alex: Maybe the point is that if the opponent allows you to push and cut (unless it was an ignored ko threat, or something), it may be because doing so isn't so great. If it was a great play, then the opponent would have connected to the peep. :-) For example...
Matt: The push and cut, like most sequences, can be both good and bad. It often leads to fighting and so it's viability depends on surrounding stones. When such a position arises the defender (the player who is cut) must have a plan for dealing with this sequence. I would never advise people to instinctively avoid the push and cut as bad shape, it's a valuble tactical weapon.