Corner approach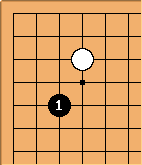 A corner approach is a move played as an approach to a single opposing stone in the corner.

here is such a move.
The Japanese go term that describes a corner approach is kakari, and is adopted by the English-speaking go community.
Some people prefer the term "approach move", but that is also used to describe an extra move needed when attacking a group.
在对方占角之后,在角部附近下一子,防止对方完全守住角部,同时也有分占角地的作用。挂角的位置有很多种,比如大飞、小飞、小目、星位等。
---
Further reading