Essential Joseki
Essential Joseki, one-volume joseki dictionary written by Rui Naiwei, is the first volume in a four volume series from Yutopian entitled The Master of Go Series.
The other planned volumes are Mystery of the Opening by Ma Xiaochun, Middle-game Technique by Cao Dayuan and Yang Hui, and Guide to the Endgame by Yang Jinhua and Wang Qun.
Errata
Page 131. The book attributes

to Go Seigen. It appears that the move may have been used first by Fujisawa Hosai in the fifth game of their 1952 jubango played on 13 March 1952.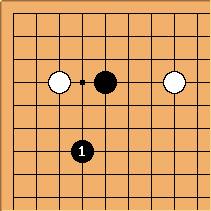 Reviews
David Carlton's

review
Table of Contents
to be added
Sample Material
to be added