All about Joseki
All About Joseki, written by Jiang MingJiu and Guo Juan, published in 2004 by Slate and Shell, explores situations that arose in 30 amateur dan level games. The explorations focus on the choice of joseki in light of the whole board and the order of moves in a given joseki. This book can be considered a continuation of Punishing and Correcting Joseki Mistakes.
A close reading of this book should contribute significantly to the students choice of appropriate joseki during the course of play.
Reviews
Table of Contents
to be added
Sample Material
Example from Game 5: Correcting Joseki Mistakes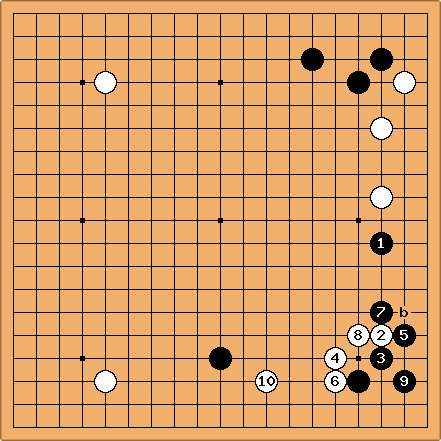 In this game between two 4 dans, the joseki in the upper right is played correctly. However,

in the lower right is an overplay that Black has failed to punish. Similarly

, followed by Black b is required prior to

. Again Black fails to punish White in the game. Variation diagrams are shown that demostrate how Black should punish White for each of these overplays.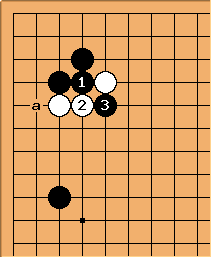 This

instead of a is the most severe move to punish White. After

, White is in big trouble. An interesting example of an empty triangle, considered among the worst shapes, that is in fact a good move in the particular situation.
In the continuation of game, a simple way to play would be for

to be at a. It could also be at b; see Variation 4. The book spends four diagrams discussing

,

and

, all of which are ill-advised, if not wrong.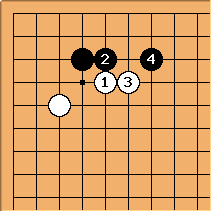 Variation 4 begins with

, the correct move in this situation, whereas in the diagram Inappropriate Joseki Choice

was an overplay. It is expected that the student will examine these two situations and determine for himself why the joseki is not appropriate in first instance and is appropriate in the second.
See Also: BQM 328