Two-Headed Dragon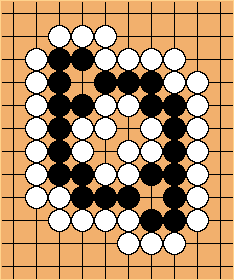 A Two-Headed Dragon (also known as Dragon Eats its Own Tail) is an unusual method of creating a living group. A Two-Headed Dragon is a group that has two eyes that are at first sight false eyes, nevertheless these two eyes are enough for living. To get this position, the group has to be a ring around some living group of an opponent, as in this diagram. Because the eyes are connected to each other in both directions, White cannot play at either of them first, and thus they function as real eyes, even though they have all the looks of false ones [1]. In actual play, these positions are extremely rare but not non-existent.
You can download a

game containing a two-headed dragon.
Two other examples, one a game from the 20th World Amateur Championship and one a go problem, are

located on the GoGoD site.
---
More examples
---
See also