Shi Yue
时越 (shi2 yue4), (b. 1991-01-11 in Luoyang of Henan) , Chinese professional 9-dan. Learned Weiqi at age 6, ranked #11 in Chinese Ranking in December 2008; as of December 2012 he is ranked #2; he was new Chinese #1 at the end of May 2013. As of 2012-07-01 he is ranked #5 in the World Ranking and new #1 at the end of September 2014.
Promoted 9 dan in 2013-02-20, by winning the 17th LG Cup.
Turned professional in 2003
2-dan 2004-07-25
3-dan 2006-07-15
4-dan in 2007-07-20.
5-dan in 2010-07-17.
In 2008, he did impressively in the Chinese A league games, with 9 consecutive wins and most number of wins (total score 16-6, like Xie He).
In 2009 Shi Yue won the 16th Xinren Wang, defeating 2-0 Zhu Yuanhao.
In 2013-02-20 Shi won the 17th LG Cup, defeating 2-0 Won Sungjin.
In 2013-10-24 he won the 10th Changqi Cup, defeating 2-0 Lian Xiao.
Links

Chinese profile at baike.baidu.com
Videos
Pictures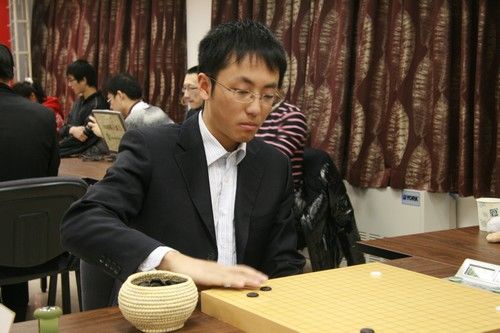 Shi Yue 2011 January
shi yue sep2022 (Image credit:
Foxwq.com
)
shi yue feb2023 (Image credit:
Foxwq.com
)
shi yue mar2023 (Image credit:
Foxwq.com
)
shi yue vs han yizhou mar2023 (Image credit:
Foxwq.com
)
jiang qirun vs shi yue mar2023 (Image credit:
Foxwq.com
)
chen xian shi yue jun2023 (Image credit:
Foxwq.com
)
shi yue aug2023 (Image credit:
Foxwq.com
)
shi yue weon seongjin mlily 2023 (Image credit:
Foxwq.com
)