Joseki in Context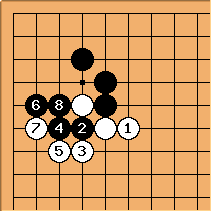 is a stretch towards the center, ceding a large corner to Black.
Joseki produce a fair or even result. This line of play does not split the corner between the two players. Black's gain is clear. White's position must work well from a whole board perspective for this to be playable by White.

is a situational play.
Pro game 1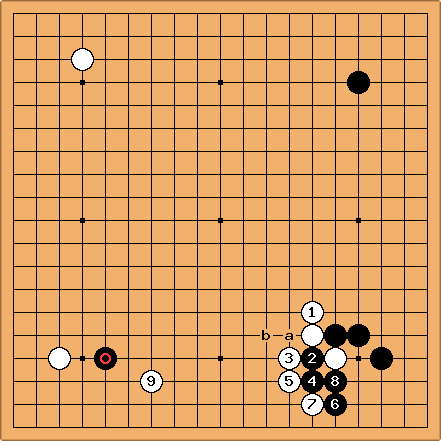 Cho Chikun uses White's thickness to attack

.

is a dual purpose move that serves as both a pincer and an extension from the White position in the lower right. This is a common reason to choose this joseki.
Note that if Black cuts at a White can play a ladder with b.


Pro game 2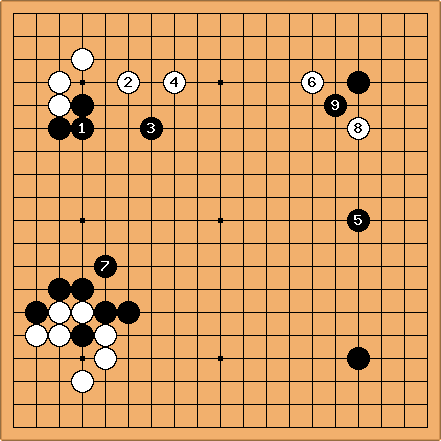 Takemiya uses

-

to form a framework on the left side. This is another common reason to choose this joseki.
Note that

breaks the ladder, and

protects against the cut.


Pro game 3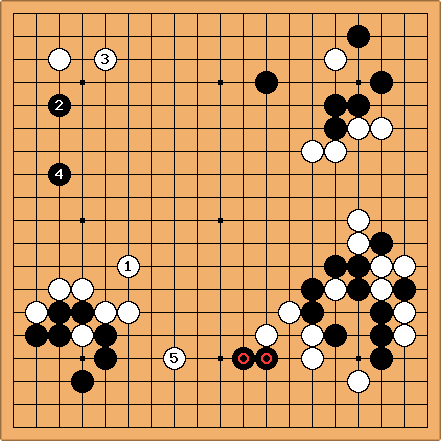 In this case the ladder does not work, and Otake plays

. Otake has chosen a miai strategy, carrying a double threat. When Hashimoto prevents a White framework on the left side with

-

,

attacks the

stones on the bottom side.


Pro game 4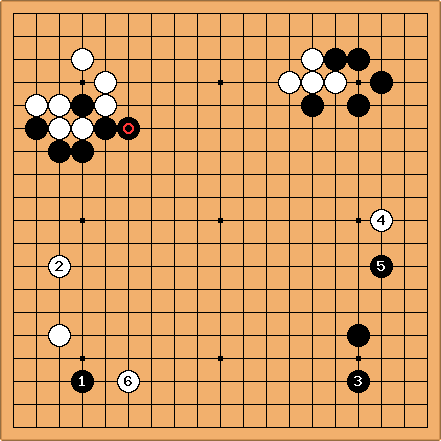 In this game Rin's strategy is quite subtle, related to sente.

threatens a pincer, and Sakata protects with

. Having kept sente, Rin makes the final enclosure with

, getting the last big play of the opening.

starts the middle game fighting.
Also, one reason for playing

is to keep White from forming a large framework on the top side.
Note: Because

reduces Black's influence on the left side, many amateurs would consider it to refute Black's strategy.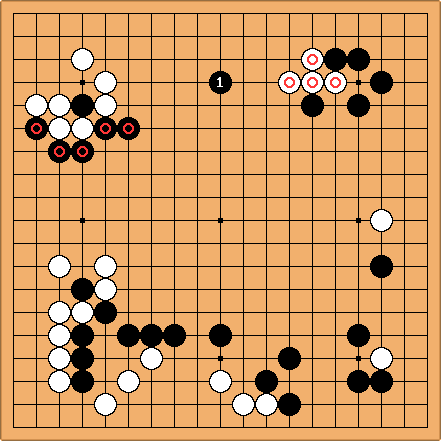 At the end of the battle on the bottom side, Rin uses his central stones (

) in the top left to support an attack on White stones (

) in the top right.


Pro Game 5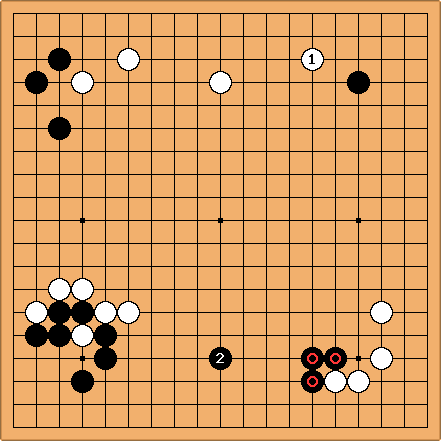 Rui's strategy here is also far from obvious. Black's stones in the top left are secure, and the ladder does not work.

is a dual purpose play, allowing the ladder while approaching Black's corner. With

Jiang secures his weak stones (

) on the bottom. How can White utilize her stones in the bottom left?


---
See Also: BQM 309
---
Bill, would you add dates to the games shown please. Could we call Lin, Rin Kaiho ? The game between Sakata and Rin was played in a Japanese context. Similarly, we talk of Shusai vs Go Seigen rather than Wu Qingyuan in that context. Other examples: the Go Seigen jubangos, or Cho U rather than Zhang Xu.
Bill: Dates added. :-)
The Japanese pronunciation of the name, 林, is Hayashi. りん is the best the Japanese can do to pronounce Lin. That's why I prefer Lin. (If the Japanese called Go Seigen U, I would prefer Wu.)
Velobici: Bill, the purpose of Sensei's Library is communication. If folks know a person as Rin Kaiho, calling him Lin, even if it is more correct, sacrifices some amount of communicativity...the very purpose of Sensei's Library.
LukeNine45: Thanks for adding this page, I think I now have a decent idea of how to use the joseki!
Bill: Thank you, Luke. Doing the research was both fun and instructive. :-)
And thank you, Velobici, for your edits and questions. :-) I did not sign anything in the main text -- maybe I shoud have -- so if you want to change Lin to Rin, go right ahead. But people can click on the name if they don't know who it is. (A little later: I have added Rin in parentheses. How's that?)
Velobici: That's great! Folks will immediately understand that "Lin" may also be known as "Rin" and ask themselves "Who's this Rin that Sakata is playing against in the Meijin...ah, must be Rin Kaiho!"
Bootmii: Changed to Rin Kaiho.