Fractional Eye
Although most players are familiar with the concept of half an eye, that concept can be extended to a few other fractional values, such as the ⅓ eye, ⅔ eye, ¾ eye, 1¼ eye and 1½ eye.
Generally, we can say that in situations where the fractions add up to a value of 2, the group is alive even if the opponent moves first, if it is 1 or less, the group is dead even if the player moves first. Between 1 and two it depends on sente and may be ko.
Half eyes
The most familiar of the fractional eye is the half eye.

Each of the marked points is half an eye. Since black also has a full eye, his total eye value adds up to two, and he is alive (white cannot kill)

If we remove one of the half eyes, black's eye value adds up to 1½ and life or death depends on who moves first. Black can move and get two eyes, white can move and reduce black to one eye.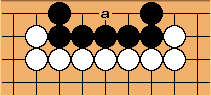 In this situation black als has 1½ eye. Black can make it two, or white can make it one, by playing a.
Thirds of an eye
Using ko, we can construct one third or two thirds of an eye.

Here, each of the marked intersections is one third of an eye. Since black has three, he is alive even if white moves first.

If we reducing the number of third eyes, now black has 1⅔ of an eye. Black can live if he plays first, while it is ko if white moves first.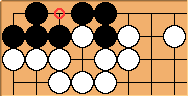 Reducing it yet further to 1⅓ of an eye, now white can kill by moving first, while black can get ko.

By switching the position of one of the kos, we create a ⅔ value eye. Here, because black has both a ⅓ and a ⅔ eye, he is alive even if white moves first.
Quarter eyes
We can also construct eyes that are ¾ or 1¼ of an eye. Again, if the sum of such values reaches two, the group is alive.
A three quarter eye is a situation where one player can create a one-and-a-half eye, while the other can make it zero.

By playing either point marked a, black can create a 1½ eye. Since both sides are symmetrical and therefore miai, the fact that black can make a 1½ eye combined with the half eye at b means he is alive even if white starts (and takes one of the stones). Each side is ¾ of an eye, so with the half eye, it is ¾ + ¾ + ½ = 2 eyes.
Again, black is alive. If he plays b he obviously lives, but if white plays there he can play a and then either make two eyes on the right or, if white prevents that, capture the white stone at b.
Since a is ¾ of an eye, that means b is 1¼ of an eye. This is because black can move to two eyes, while white can move the half an eye, so the average is 1¼.
See also