Dodge
Various kinds of good play could be described as dodging the opponent's attack.
Examples:
Transferring your weight onto the other foot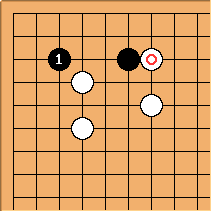 When White plays

, it is part of natural good feeling for the game to invade the corner with

. If Black can live this way, it isn't necessary to fight on the outside too.
Dropping back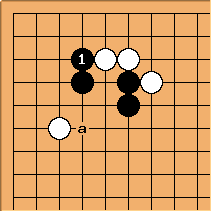 is considered correct here (Black a is the play from old Chinese games, used recently by Yamashita Keigo). But what if White tries to cut?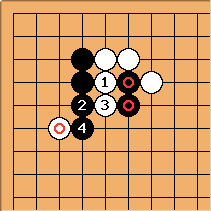 In most positions

is perfectly adequate, dropping back rather than defending at

and allowing White to cut at

. The damage to

makes up for the weakening of the

stones. (See easy way out of a double kakari.)
See also the dropping back page.
Other examples:
Further aspects of dodging are the whole topics of sabaki and flexible play.