Positive
I see a lot of talk in books about a "positive approach". An example is the following from a book on joseki which describes White 4 as a "positive approach". What the heck is a "positive approach"?
---
White had another choice here.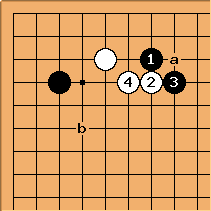 White can keep things simple by drawing back with 4 here. After that the cut at a, and a play at or near b, are miai.
That still doesn't explain what a positive approach is. :-)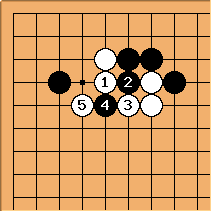 Charles Matthews White is allowing this famous joseki (the degiri of Kubomatsu) rather than just connecting and waiting to attack on either side. Without taking personal responsibility for the book's comment, White's attitude to me indicates a willingness to start a large-scale fight.