Atari Atari
Atari feels good, but it is not always good. Atari, atari! [1]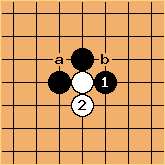 Before Black gives atari, White has two liberties and Black has a cutting point at a. After Black's atari and White's extension, White has three liberties and Black has two cutting points, a and b, to worry about.

The following diagram illustrates the problem. It feels good to make forcing plays, but often the result is to strengthen the opponent's stones and to weaken our own.
---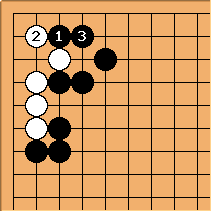 The hiki

of the tsuke-hiki combination is a good shape move.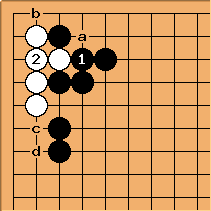 After the atari Black must come back in gote and defend the cutting point a. This gives White just enough tempo to save her group with b and c. Also (or rather, since) it removes a weakness of White: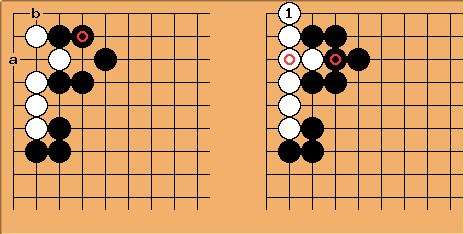 Removal of white weakness
a is a weak spot in White's formation:
Black can peep there and and kill with b next..
Right: The weakness has been removed in sente and White can now play

.
---
Cases where atari-atari in a different sense, atari followed by atari, is appropriate include
---
See also
Notes
[1] Bill: Once I dropped by a Go club in Kyoto when an 8 dan was giving a class. I sat in. In critiquing an amateur game he said, "Atari! Atari! It feels good, but maybe it's not so good."
tderz: I dare to say that in 95% of all occasions where a player below 5 kyu (guessed) wants to play Atari -
it's superfluous, aji keshi; hence detrimental.

If a DDK player only played atari for very clearly formulated reasons (to him/herself, in his/her mind). e.g.:
eventually capturing stones

holding opponent down to a certain number of liberties
destroying the opponent's shape
maximizing efficiency

e.g. sacrificing two, then giving atari (still might already aji-keshi, when giving atari too early)
etc. etc. - s/he might get two stones strength improvement alone by holding back all ataris for which you could not clearly define a reason. (Because many more opportunities would occure, because the opponent's stones would not be settled.)
If atari was given too early - often one regrets later not to have the possibility to give an atari from another side or to another stone.