4-5 point 4-3 approach keima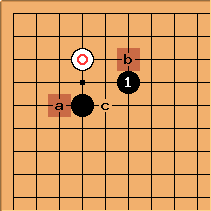 White has approached at

; and Black responds with the cover

. White's continuation depends on the situation on the whole board[1]. When White played

he already knew, perhaps, what he was going to do. There are a number of complex variations that can follow.
Taking the point

will look good in any strategy for Black based on influence. A white stone there makes a major difference (see 3-4 point high approach, keima).
Possible plans for White:
Live locally with a or b. See 4-5 point 4-3 approach keima, contact at 3-5 or 4-5 point 4-3 approach keima, contact at 6-3. This is a good option, if the resulting outward influence for Black has already been reduced or countered in some way. There is an important ladder to consider after Black b, affecting joseki choice by both sides. This ladder should be checked before is played as an approach (or White plays tenuki, if was the initial corner play here).
Tenuki (4-5 point 4-3 approach, keima, tenuki). This is quite a common pro strategy. Black cannot eliminate the aji with a single extra move. White will plan to reduce the effect of Black's possible influence/thickness before surviving in the corner.
Cross-cut and exchange variations after a, b and hane by the opponent if there is a possibility to build some territory on the sides compensating for the corner.
White at c to start a cross-cut fight. This can be considered unreasonable in an opening position, but can be playable given the right conditions in the middle game. See also BQM 480.
---
[1]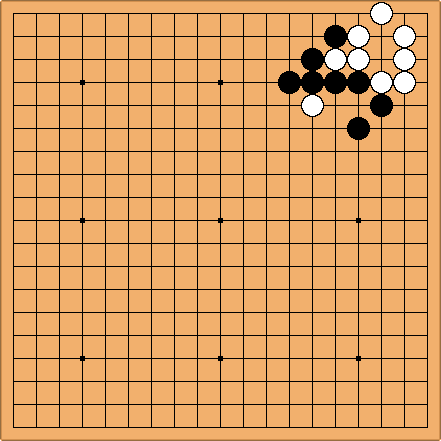 [1] This is the position after 19 moves in Tsukakoshi Tsuneyasu(White) - Takagawa Kaku, Spring Oteai, 1935-05-19. White responded to Black's initial 5-4 with an immediate play at 3-4 and the rest followed.One could argue that both players took the emptiness of the rest of the board in account when choosing their joseki.
---
See also 4-5 point 4-3 approach keima, contact at 6-3, vulgar cut.