4-5 point 4-3 approach keima, contact at 6-3, vulgar cut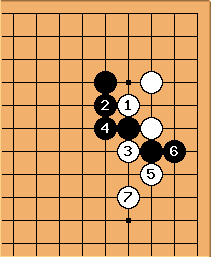 As a deviation from the joseki White's cut with

and

has a vulgar feeling and requires a tesuji by Black.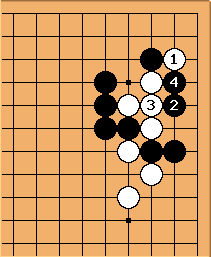 Black peeps at

, White connects at

to avoid double atari, Black cross-cuts at

, and the white lump is in danger.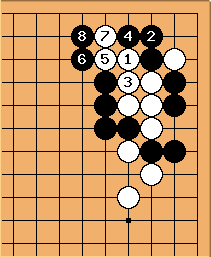 The only move with a snowball's chance in hell of getting White out of this mess is atari at

. Black extends and White must connect at

. Black now captures White with a loose ladder.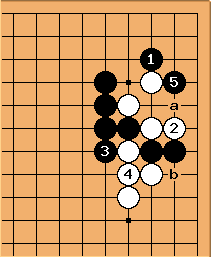 White's best defense is immediately to take a black liberty with

.
Next,

is an important kikashi. Black

gives White sente. However, when the time is right, Black can come back and capture two white stones in sente by squeezing at a , making Black even thicker.
The result is not good for White, as Black gets good territory and influence and White's stones are overconcentrated.

at b, capturing two Black stones and saving all his stones, would be a small move, and Black has no need to answer: not worth losing sente.
---