4-5 point 4-3 approach keima, tenuki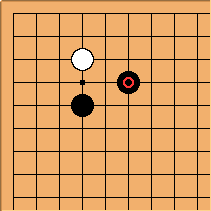 One of the most complex and interesting of tenuki joseki is met when White ignores

here.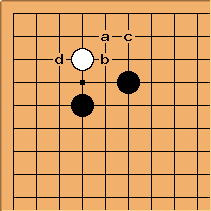 Black's main line here is to play a, to close off the top side. Other plays known in pro games inlcude Black at b, c or d. c will not be discussed below, because its sequences are similar or equal to those of the main line at a.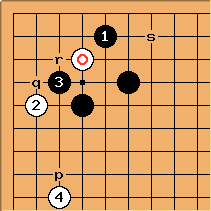 This is the common line in pro practice. After

the

stone retains aji. White will extend in the direction of

after

: there is a question of whether to hold back at p, and whether or not to play the White q - Black r exchange first. That in turn depends on the use White intends to make of the play at s, aiming at

from the other direction. All these possibilities come up in pro games.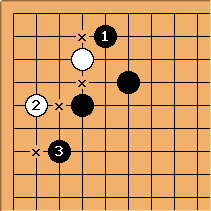 Instead of

in the previous diagram, black can play

here: but is certainly too thin to kill White: consider White's plays at the x points. This way of playing was tried recently by Yamashita Keigo.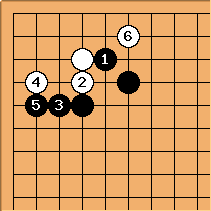 here (b in the diagram) can set off a joseki-like sequence. With

, a hard-to-find tesuji, White can escape confinement. This particular line has been played a couple of times by the colourful Seo Neung-uk.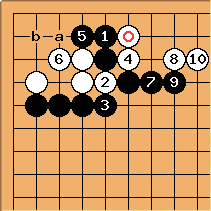 Black can turn the corner into a ko by playing at a BQM531, Black b sacrifices the three stones but gets a part of the corner.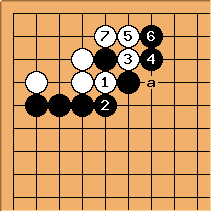 If white wants more security in the corner and doesn't mind getting locked into it, she can play

here instead. After

, black can play a or tenuki.
---
After

, the usual line is for white to approach the corner from the left side, for example at a, but

is a nice light way of escaping to the upper side.
---
Written by: Charles Matthews with additions by tderz and Andre Engels