Second line capture
The second line capture, as illustrated by

, is one of the first basic edge patterns to occur to a beginner. Other names for this pattern include chapel and second line trap.

The white stones are captured. This is in fact also an example of a ladder.
---

So, the beginner learns that the descent

doesn't save the stones. That does not alter the fact that

is sometimes a good move, in particular to destroy eye shape as in the two stone edge squeeze. In some cases, neighbouring white stones mean

can save the original stone.
---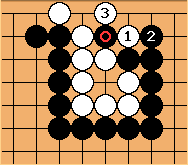 A second line capture often (but not always) allows the capturer to create an eye at the captured stone. In this example,

captures the

stone and ensures life with two eyes.