Sake bottle shape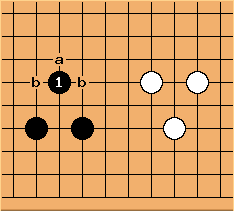 makes the sake bottle shape, a knight's move from two stones one space apart. Also known as inu no kao (dogface) from the shape upside down (White stones in the diagram).
If

does not point to the center, or other stones are in contact with these three, then the shape is not the sake bottle shape.
One proverb claims "the sake bottle shape is overconcentrated" [1]. Indeed, there are many cases where b would be better shape, or the jump one space further to a (horse head) would be preferable. However, it remains a flexible shape seen in pro games. See sake bottle shape, textbook example for more discussion. According to John F., negative overtones of the sake bottle shape may involve a pun based on another word tokkuri, meaning careful, serious, plodding.
However, modern top bots do not seem to shy away from this shape.
See also
Notes
[1] トックリ形はコリ形なり (tokkuri-gata wa korigatachi nari)