Lucky
My (usual) name is Lucretiu Calota and I live in the nice town of Brasov, Romania. As there is no go club here (because everyone thinks I should do it :( ) my contact with the game is mainly on the Internet. You can write me at lucgodan@hotmail.com
I learned Go at 14 years old, back in 1984, just before going to high school.
I became 5 dan in 1991 when I came eleventh at the European Go Championship in Namur, Belgium. I was the second Romanian 5 dan.
Now I am somewhere in the first ten romanian players but there are youngers who come fast from behind, so my place isn't sure at all :) See

here. Note on the list the presence of Catalin Taranu 5 dan pro, Robert Mateescu european champion in 1998, Cristian Pop european no. 11 right now. Ten years ago I used to beat all of them :)
Finally I succeded to fulfill an old dream of me and become Romanian Champion this year (2003). After a perfect score in the semifinals I just stopped Cristian Pop to take his fourth consecutive title and fifth overall.

Semifinal

Final
Congratulations Lucky! Dave
And now a problem of mine.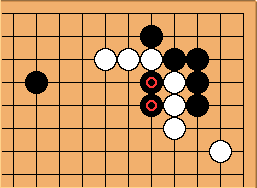 See Lucky's Problem.
---
I wanted to add a nice and hard problem and looked for a page to link it. But I couldn't find one to like me so in the end I added it here: Completely artificial problem