NYR 2002 - other moves for W60
NYSR Other Moves For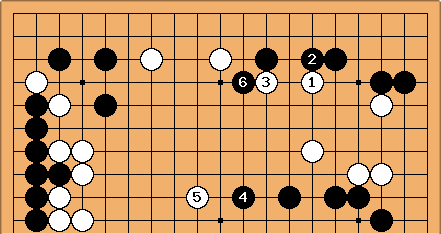 First I also thought about White 1 but Black doesn't have to answer White 3; so he can play Black 4. White 5 is still good but Black 6 means trouble for White.
---
Lucky: What move did you fear AvatarDJFlux? I wrote so short expecting some questions. So please help me to make a better comment.
AvatarDJFlux: Sorry, you're right, I should have specified better. Problem is I've been traveling for some conferences... I'm still away from home, but I have my PowerBook with me, this time%%% Well, I liked a lot the way of playing in your second diagram just above (the move I would have played), while the black move I feared was this one (or something to that effect...):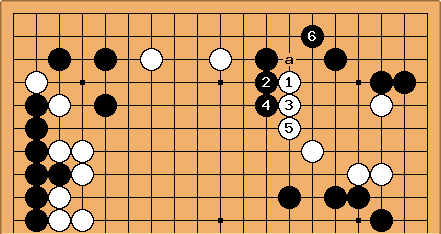 DJ contd. True, as Dave stated (Black 61, let us see where White is going with this. Black stays strong in the upper right and secures his territory there), the peaceful answer of Black 61 at a is good enough, maybe there's no need to pick up a fight%%%%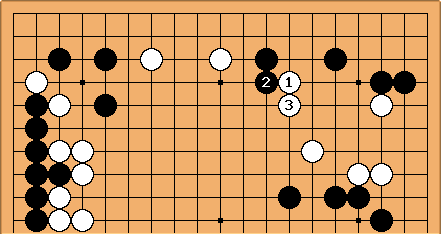 Yes, Black 2 is possible. The problem is White 3; White 3 is good if White 1 is meant as a reduction of a moyo, which is not the case here. Here White wants to strengthen her group (even if this means sacrificing White 1) and to keep an escape route to the center.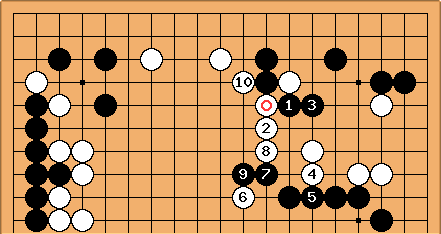 The cut Black 1 is another possibility. This is a confused fight but White is happy as she more or less connected her two groups.

AvatarDJFlux Thanks, Lucky, I've got the point!