NYR 2002 - W84 variation

Variation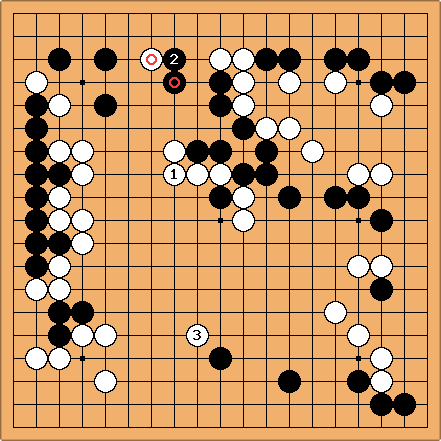 Lucky When Black plays the marked stone White must connect in the center to be consistent with her strategy so far.
Black 2 is a smaller move than White 3: the marked white stone still has aji.
The upper right white group is alive as it stands so it is very likely Black will not play Black 2 right now.
---
Arno 1d: I can find some very threatening moves for Black here, if White plays 3. After some hard thought I agree that White is alive here, but she has to watch her step very carefully. For example, Black 1 below is a good attacking move.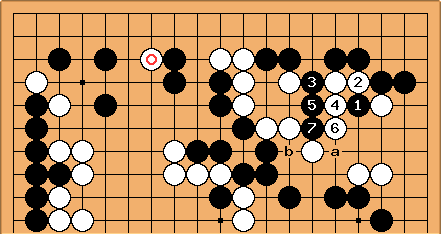 White cannot play 2. If she does, she has to continue with 4 and 6 otherwise she should not play 2 in the first place. But after Black 7, a and b are miai and White is cut into two.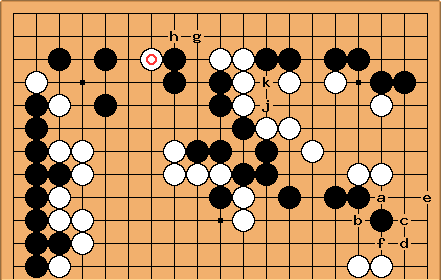 What comes to White's rescue are several different plays: if she starts her defense at a the sequence b-f is forced. Note however that White damages her lower group in the process.
Then there is the move at g which threatens to link up to the marked stone and create some eyes along the side. If Black answers g by playing at h, then White makes an eye to the right of g.
And then there is the potential eye at j by playing at k. Of course, White is not likely to get this one, because a play at k by Black threatens to cut her apart.
All in all, the situation is not hopeless, but one wrong step and White is doomed.