New Years Rengo 2002 / move 158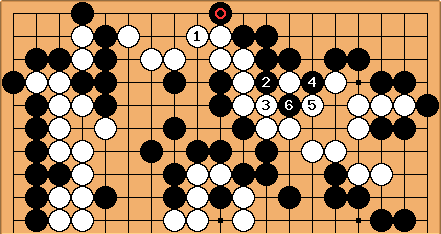 Black just played the marked stone. If White answers with 1 then the sequence to 6 is forced. Now White has two follow-ups.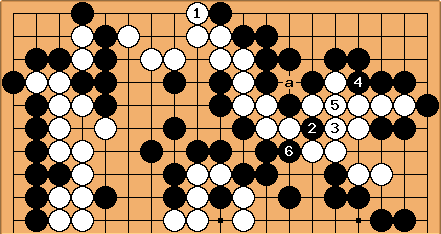 If White plays 1 to make an eye on the upper side then Black can play 2 and the following moves. Of course White can play the ko at a but in the end it is a ko anyway.
Lucky Yes, double ko but no eye for White. If White plays 5 at 6, Black will play 5. Then if White takes either of the two kos, Black connects the other one and it's a false eye.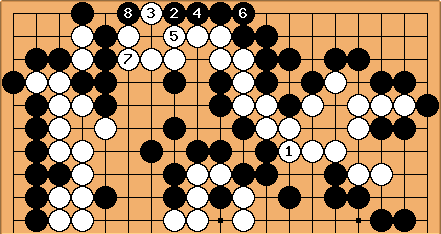 Or White can play something like 1 to make a sure eye. Black 2 is good and again White cannot make eye without ko.
As White is ahead I preferred to play the simplest sequence, even losing some points (very few, really).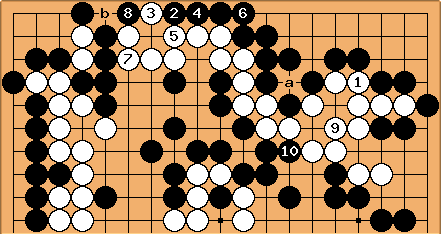 Now, explaining this, I realise that White can live in double ko by playing 1. White has two kos, at a and b, and she can live by winning one of them.
---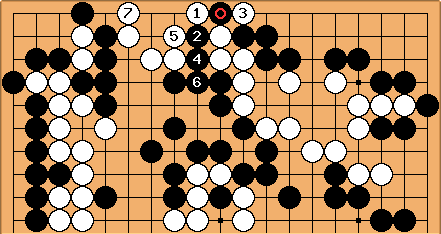 dnerra: Doesn't this work just as well? Not a big difference, points-wise, from Lucky's move in the game, though.
Lucky To be frank I didn't even consider this move. A beginner move may be a pro move, they play the same :-))
I do not imply that dnerra is a beginner (or a pro by the way), just that Black 1 is so simple it didn't occur to me.