Ko Lock
The term ko lock refers to using a ko to "lock" the opponent in, especially in the opening when there are proverbially no ko threats. This is one of Six good and six bad shapes taught to Clive Hunt? by Victor Chow, who learned them during his training in Guilin, China.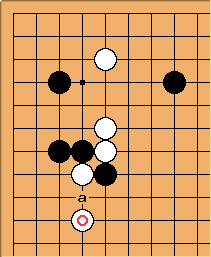 For White to play

in reply to Black's cut here is a standard piece of shape. White has a good reply to Black a atari.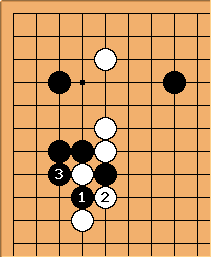 If

,

is double atari and

is forced. In Japanese,

is called a Kiri-kaeshi (literally, cut back) tesuji.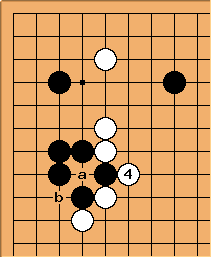 White plays

relying on being able to capture at a in sente, forcing Black b. Since there are proverbially no ko threats in the opening, White's plan will very often work and build influence.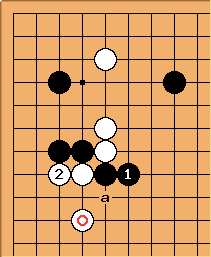 Therefore Black usually[1] extends to

(or a - the choice isn't straightforward):

next leaves White's marked stone on a good point for shape.
---
Bildstein: But what is ko lock? Six good and six bad shapes says it is one of the six 'famous good shapes'. This page gives an example, and I can follow the logic of the example to see why it is reasonable play, but I can't tell what it's getting at more generally.
kokiri - in the example, white denies black access to the centre of the board by setting up the ko shape. I think this act of locking black into the side is the point, so white is unworried about winning the ko
---
This tactic is as old as the hills; but the 'ko lock' name goes back to Victor Chow, a Chinese amateur now in South Africa.
---
[1] Actually it seems that the atari is also current in pro games, while the extension to a isn't.
TDerz Isn't there an Ishida game (1992 Honinbo) where one player plays the tesuji 3 times, the other stubbornly captures three times the stone?