BlackSheepRengo2003/W58 Discussion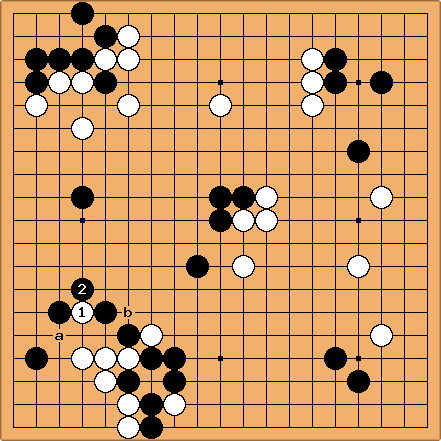 Dieter: I felt that the exchange of 58 for 59 is a loss for White ...
Charles Matthews I agree about White 58 - I didn't like it.
The interesting point for discussion is that each of 1, a and b here has some drawback as a threat.
dnerra: I don't understand why you dislike White 58. Surely white has to play a local ko threat, and at least White 58 keeps the option of the follow-up at a open (leading to one of the variations discussed on Black Sheep Rengo 2003 / B51 Discussion). White b, while it looks like better shape, actually destroys this possibility.
DaveSigaty: I also thought White 58 was a loss for White.
Charles Matthews I thought White 58 was a loss of ko threats, assuming a long ko fight here. Actually it is a loss of exciting ko threats, rather. White's next threat here can be to connect up 58, but it's bad shape and kind of dull. I also feel that Black can tidy up here now with a ponnuki as a thick move. Still, this part of the board isn't over and done with.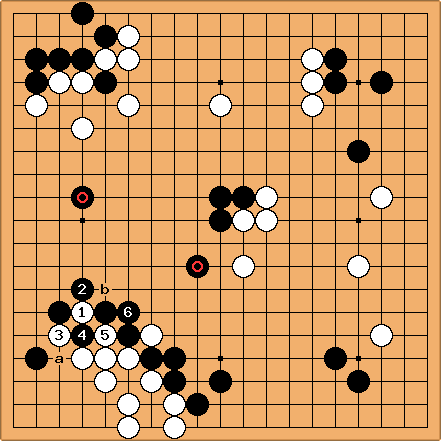 Dave: White can no longer take advantage of Black's bad shape in the corner. In the "normal" variations, White 3 is in place before White plays 1. Here Black can reply at 4 if White tries to continue at 3. This creates a cutting point at a that slows White down. White might consider playing atari at 6 in reply to 4 and continue to atari around the outside at b. However, with the marked stones in place Black is very strong on the outside so this looks too ambitious. Even after the exchange of 5 for 6, White is troubled by the cutting point at a. If White simply pulls 1 out by playing 4, Black b leaves White with no significant follow-up.
In the game, I think that White 58 at 3 here would have been a better threat. If Black ends the ko, White 1 breaks through.