Black Sheep Rengo 2003/Move 170 Upper Right Endgame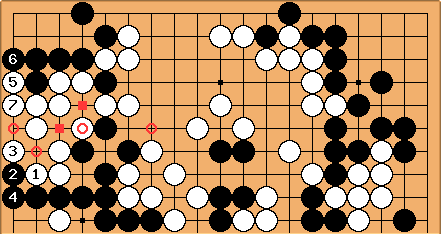 Dieter: After White's marked move, any Black move destroys the side points.

threatens another big sente move at 4, so Black will not allow this at that stage of the endgame and we may expect this. We count two moves for W and 7 points (squared count double). The circled point is White's prerequisite.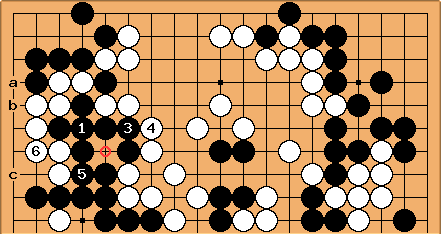 If White doesn't answer

, this can happen. a/b is next worth one point so let's count it as a half. Black makes another one (marked).
The overall tally is 3, the count is 8,5. The miai value is 2 5/6. Seems like HolIgor and I have equal yose skills #:-7.
(later): Oops. it's bigger. White avoids capturing a stone and filling in later.
dnerra: One question is whether Black can play the following ko: