3-4 point distant low approach kosumi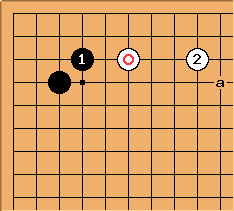 Against the marked approach Black's diagonal response at

is simple, and good for territory. Now White at

can be considered still to be the standard answer, but extending as far as a is increasingly seen in pro play, for a lighter position. The result in the diagram is locally considered good for Black, but White normally plays this approach when a black pincer on the top side would profit black even more.
The difference between

and White a needs further elaboration.


See also