Alejo/seki
This is the seki solution to my problem: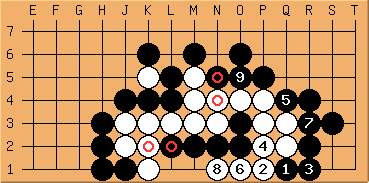 As you can see the main difference was the L2 black stone, and Black starting with sente...
Hello, because the black wall has so many weaknesses, I think white can let black connect and escape, starting with Q5 instead of 2 and 4. After Q5, if black cuts in Q4 white can escape via a double atari in O5. The beauty is that black can get force a ko fight, and white can still get the seki... and fight the ko (a desperate fight but worth fighting...) And if black makes a mistake after Q5 or O5, white is free to go. Of course, if he has nowhere to go it doesn't make sense...