Side pattern - K versus pT
This is a pattern mentioned at Shin fuseki, as representing one of the classical ideas.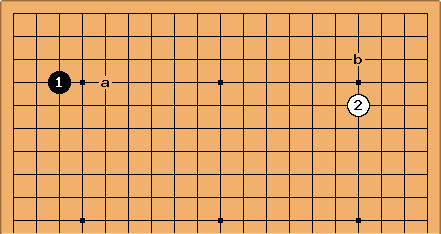 These plays could be

and

, starting a whole game.


The motivation for

in the old days would have been to make Black's task harder.
Black now can't claim an obvious plan for this side. Black at a is an enclosure for playing on the large scale. Black at b will be met by some joseki of White's choice.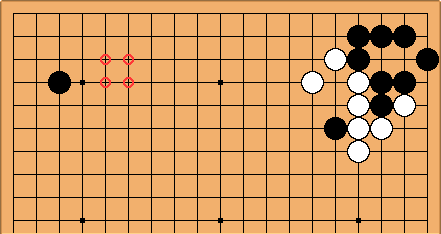 If for example Black does approach immediately at b, and we assume this joseki result, Black will emerge with sente.


A black play to make an enclosure at one of the marked points seems to some extent already negated by White's influence.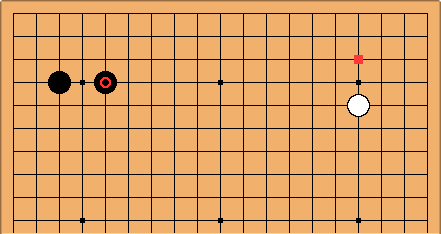 Assuming

first, White's enclosure at the square-marked point is a big point.


It doesn't however feel very urgent. A black play there doesn't co-ordinate well with

.
---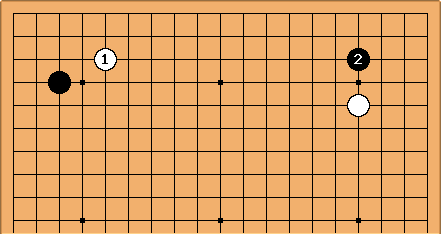 In classical games

might well have been

in a Shusaku fuseki.


Black's answer at

is in the traditional style, placing high value on the corners.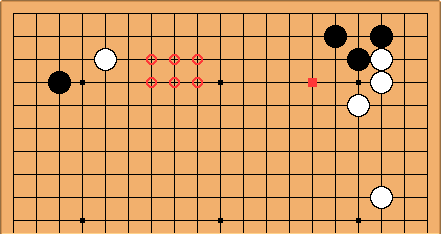 White can effectively force this joseki result.


Now it is a black pincer at one of the circle-marked points that seems poorly co-ordinated. That's because Black is low to the right. Possession of the square-marked point now seems very important. The two marked areas are like miai.
---
Summary