3-4 point high approach, inside contact, hanging connection, pincer fight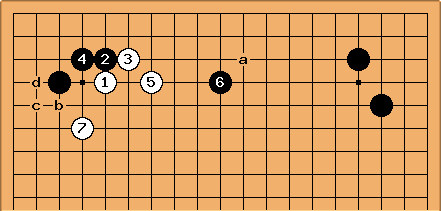 When Black has backing on the upper right corner,

can consider playing this pincer cum extension to prevent White from extending at a. In this case,

is common and also the most peaceful. Usually Black plays elsewhere after

, and later White may exchange White c with Black d.

may also attach at b, but because the hanging connection of

is looser compared to the solid connection, this can lead to complicated fights. The remainder of this page deals with

at b.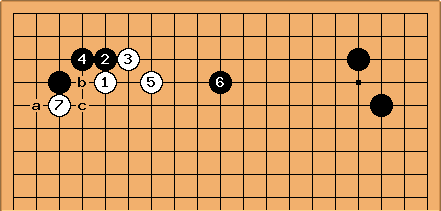 In response to the attachment at

, Black a is the peaceful and essentially reverts to a 3-4 point, high approach, inside contact, solid connection joseki with the exception that the

stone is played as a hanging connection instead of the solid connection. However,

at b or c is far more common, and these will lead to complicated fights.
---
Empty triangle cut
---
Cutting across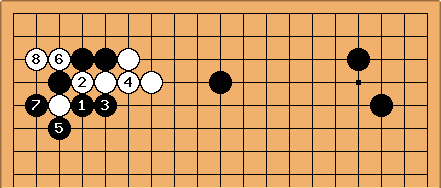 White gets a big corner and the original pincer has lost half its purpose.


Suzuki and Kitani give the following play in the corner after Black's hane-dashi.
---
See also: