Unkx80
:
Re: Understanding more about this jump
(
2006-04-04 20:13
) [#1374]
This is quite a mouthful to reply.
If you don't play

, then White at

will cause Black to be in a split shape. Blocking at

should be a basic instinct.
For instance, perhaps we see this in a handicap game:

It could hardly be said that white had a base in the first place. Can someone help increase my understanding of this move more? Does make more sense at a, b, or c? It seems to me that black has enough bad aji floating around to make trying to cut this jump a lot of work for nothing, even if anything gets cut off there are enough problems in black's shape to let it all settle anyway. Perhaps it is much like cutting the one point jump, there are times when it may be right...?
This is a negative example of cutting, and also illustrates why the horse head is said to be a good shape. After

, I find that there is no satisfactory move for Black. Most likely I will play

at either c or d, but then the

,

,

and

stones have become a heavy burden.
Using the other sequence: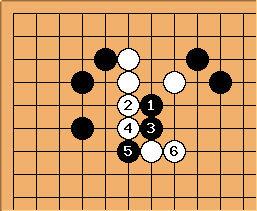 If

and

cuts, then

is a net.
I saw one other use of this move in a recent handicap game that might be of note:

is a possible attacking technique, but leaves behind the weakness of Black b, White c, Black d. I don't have time to analyze whether this is possible. On the other hand, White a seems okay.
By the way, page churn is good!
Minue
:
Re: Understanding more about this jump
(
2006-04-04 22:44
) [#1377]
erislover wrote:
I did not wish to clutter the main page here with these questions. We could always move any content over if it becomes worthy (or create a new page).

Here is the diagram provided on the main page:
My question here: is necessary?
-> Yes, As unkx80 explained well, it is definitely necessary.
let's assume Black decided to sacrifice its marked stone. Then

~

is one of expected common variations. after

, white connects at a.
now, trace how white and black stones flow. Black stones is working well to surround white stones(making white stones to be more closer to atari pos in broad meaning), driving them backward and bended into narrow area. And, Flow of stones in this diaram is essentially same with a simplfied case in the following diagram. see below.
As we can see, W stones are moving in a very ugly style. So, bad for white.
This result can be even more simplfied as follows.
In conclusion, W's plays in variation(1) is just non-sense, or Non-Go moves, in the sense that white helped black to drive White stones to be closer to being in atari position.