Weird and Wonderful - Volume 1 - Extraordinary Moves by Professional Go Players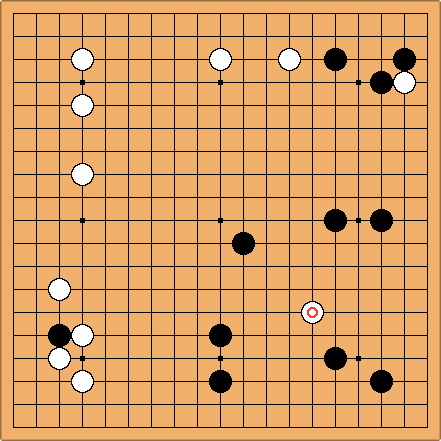 One of the game records in the chapter 'Five spectacular invasions' features
this deep dive played by Fujisawa Hosai 9-dan in 1963
Volume 1 of the series "Weird and Wonderful", on extraordinary moves from professional go games.
Written by Kim Ouweleen and Peter Brouwer.
Published in December 2021 by the Kiseido Publishing Company.
Sofcover, 246 pages. Available as a printed edition and as an e-book on the website of SmartGoBooks.
Contents:

A Time-Saving Move that Backfired
Magic on the First Line
Five Spectacular Invasions
The Raccoon-Dog Drums its Belly
Climbing on Broken Ladders
Triple Ko? I Don't Think So
Exquisite Attachments on the Second Line
Golden Rooster Standing on One Leg
The Dragon that Eats its Tail
Double Ladder Breakers that Calmed the Gods
Wonderful Wedges
Chen Yaoye's Creativity
Miraculous Escapes
A Different Angle
Subterranean Attacks
Extraordinary Life-and-Death Tesujis
Endgame Adventures
Eternal Life in the Void


From the back of the book:
"As go players we all study the game in our own way, be it leisurely or with near-scientific precision. We attempt to distill the moves and find their essence in recurring, understandable patterns. But every once in a while we are struck by a move we have never seen before. A move that is so out of the ordinary that we cannot help but marvel at it. A move to remember.
This book is a collection of such moves: the weird and wonderful of go. It bundles together highlights from professional games. Chapters include: miraculous tesujis that resurrect dead groups; ladders that do not work but are played out anyway for strategic purposes; dragons that bite their own tail; impossible looking invasions; endless loops to escape defeat; and rare sequences that look so bizarre they make you laugh. If you want to study professional play and marvel at the creativity of human go, you will enjoy this book."