Further 1-3-5 variants
This is a continuation of the variant 1-3-5s page, which is restricted to formations based on a 3-4 point. Most of these formations are unusual (at best) in pro games; but are found in amateur go.
Behind the formations lies a concept, co-ordination between adjacent corners (see e.g. corner co-ordination 1). For example the jabberwocks lend themselves very badly to making a 1-3-5 along a side, and the 3-3 point not so well. The 4-4 point co-ordinates well, in general; and the 3-4/4-3 point has also come to been seen as good in co-ordination, with the rise of the Chinese-style formations (a minor revolution by Copernican standards, no doubt, but moving away from the idea of pincer joseki as the essential of strategy).
---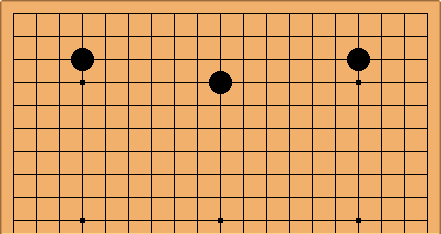 This is said to be a favourite of Cho U, who played it in 1996 against Yamashita Keigo.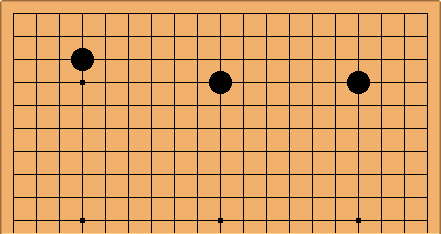 Played by Cho Chikun in 1980 - quite frequent in the past few years.
---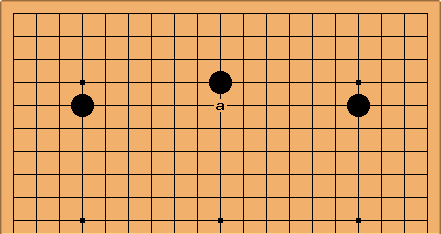 Played in 1934 by Kitani and by Takagawa, against sanrensei.
With the central stone at a, played by Takagawa in 1935 and Mok Ch'in-seok in 2000.
---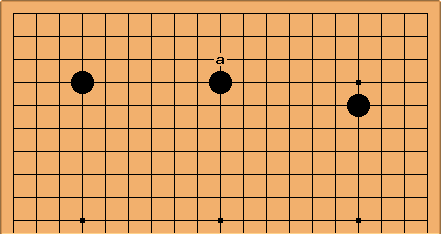 Another rare formation. Played in 1934 by Go Seigen, and in 1937 by Gu Shuiru. With the central stone at a played in 1937 by Cho Nam-ch'eol (making the 45103 enclosure).
---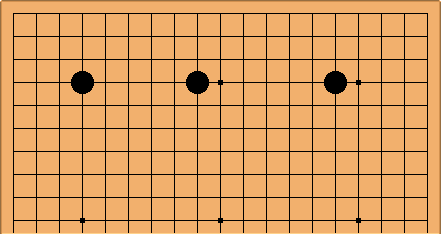 Played in 1934 by Sekiyama Riichi, and by Suzuki Kensho.
---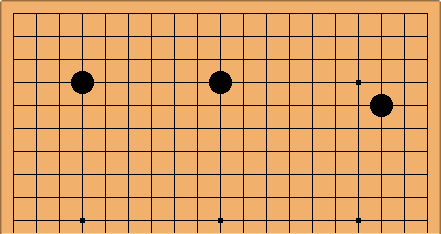 Played in 1960 by Kosugi Kiyoshi.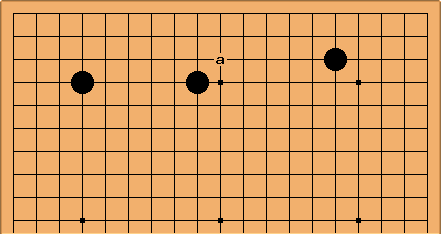 Played in 1969 by Takemiya in the SuperPillbox game. With the central stone at a in an old game of Xu Xingyou against Huang Longshi.
---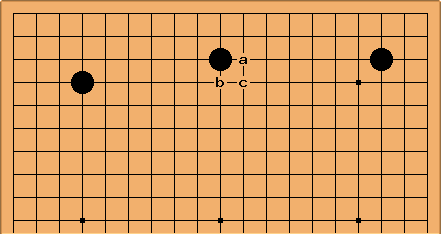 There may not appear to be anything particularly surprising or special about this formation. The central stone is not, however, perfectly placed as shown from a perfectionist point of view. Black would commonly enclose one of the corners first. Playing at a, b or c is also known.
In fact the 3-3 point isn't in principle so well suited to supporting this type of formation.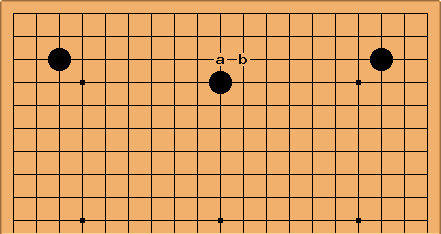 One problem with playing two 3-3 points on a side is how to threaten to make enough territory, if the opponent doesn't come in early. The 10-4 point as shown has been adopted on some occasions by Cho Chikun. A number of top players have tried a. The eccentric Yamabe Toshiro played b against Kato Masao in the 1980 Tengen match.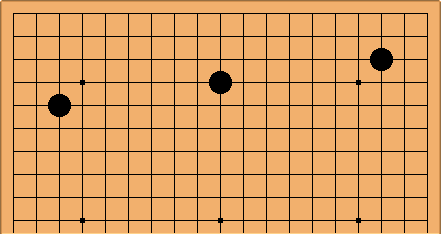 Seen in a Chinese rengo of 1961.
---